Abstract
CHEMICAL CONSTITUENTS AND ANTIMICROBIAL ACTIVITY OF SUDANESE VANGUERIA MADAGASCARINSIS (RUBIACEAE) OIL
Abdel Karim M.*, Amna D., Amira A. E. Satti and Al-Hafez M.
ABSTRACT
This study was designed to investigate the constituents of Vangueria madagascarinsis seed oil and to assess its antimicrobial activity. GC-MS analysis of Vangueria madagascariensis oil was performed. Nineteen constituents were detected. Main constituents are: 9,12-octadecadienoic acid-z,z- methyl ester (53.68%), hexadecanoic acid methyl ester (15.43%), 9-octadecenoic acid methyl ester(12.89%) and methyl stearate(10.23%). The antimicrobial activity of the oil was assessed against five standard human pathogens: Staphylococcus aureus, Bacillus subtilis, Escherichia coli, Pseudomonasa aeruginosa and the fungal species Candida albicans. Vangueria madagascarinsis oil showed significant activity against Pseudomonas aeruginosa and moderate activity against Escherichia coli and the yeast Candida albicans. The oil also exhibited weak activity against Staphylococcus aureus. However, it was inactive against Bacillus subtilis.
[Full Text Article]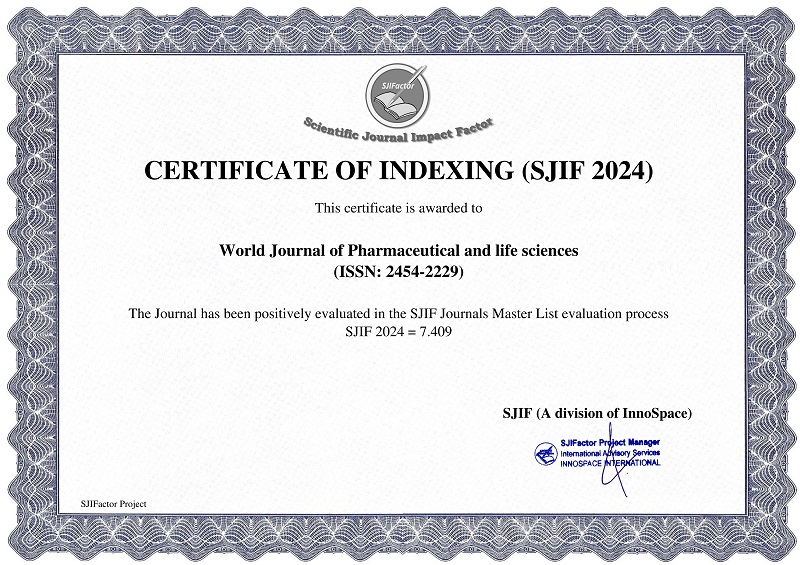 BEST PAPER AWARDS
World Journal of Pharmaceutical and life sciences Will give best paper award in every issue in the from of money along with certificate to promote research .
Best Article of current issue
Download Article : Click here