Abstract
UBIQUITY OF SUBSTANCE ABUSE AMONG SECONDARY SCHOOL STUDENTS IN BOGORO – BAUCHI STATE
Ogundeko T.O.*, Bassi A.P., Bakam C.K., Ramyil M.S.C., Toma B., Ogbole E.A., Nadabo C., Omezi O.S.I., Aje D.Y., Geoffrey P.A.
ABSTRACT
Aim: The present study aimed to determine the prevailing factors associated with substance abuse among the adolescent population in Bogoro. Background: Pseudo-history is a dangerous lightly - taken tool to sustaining intergenerational communal clashes. Adolescence comes with search for self increased pressures and decision making. Methods: 480 pupils across all classes and within the age range 11- 19 years from 4 Day Secondary Schools in Bogoro town in Bogoro LGA, Nigeria were sampled. These were administered with structured questionnaires. Descriptive statistical analysis was used. Results: 115 (34.23%) still engage in substance abuse while 221(65.77) claimed to have stopped. 70% (336) of the sampled population have tasted abused substance before. The most abused substance amongst the secondary school pupils in Bogoro Burukutu 36% (120), Gin/ Spirit 22% (74) and Kolanut 20% (69) respectively. Age distribution of adolescents in terms of when engage in substance abuse was first tasted was highest in age 11-15 (40%) for followed by 16 and above (27%). Various campaign measures on substance abuse gave insight to the source of awareness. Radio (29%), Religious institutions (28%), Television and school programs each constituted 14% and least through friends (5%) after family (10%). Social and psychological influences linked with perceived feeling after taking substance of abuse - High, strong, bold, and happy were 44%, 18%, 34% respectively. Conclusions: The most abused substance amongst the adolescents of Bogoro is Burukutu. A multifaceted intergenerational communal clashes (Ethno-religious, socio-political, poverty, government neglect), kind of major crop (Guinea corn) and pseudo perception of effect(s) derived from taking substance of abuse. Campaigns against same via school programmes, religious institutions, the media, and the family were tools found to bring about decline to the scourge in Bogoro. Modification of the various campaign strategies and correct historical account regarding land ownership is recommended.
[Full Text Article]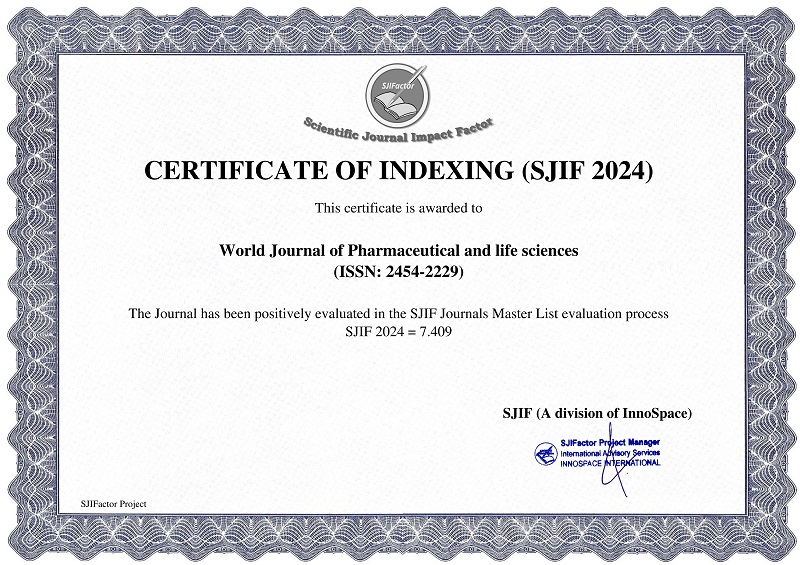 BEST PAPER AWARDS
World Journal of Pharmaceutical and life sciences Will give best paper award in every issue in the from of money along with certificate to promote research .
Best Article of current issue
Download Article : Click here