Abstract
UNDERSTANDING SJÖGREN SYNDROME IN AYURVEDA
Shereen Sreenivas*, Muralidhara and Sindhura A. S.
ABSTRACT
Sjögren Syndrome (SS) is a chronic autoimmune disorder in which the moisture producing glands do not function properly leading to oral and ocular dryness. It is also associated with other autoimmune diseases like RA, Lupus, Inflammatory myositis and Systemic sclerosis. Primary SS is a common disease that affects 0.1 to 0.6% of the general adult female population3. Primary SS has a female preponderance (female-to-male ratio at least 9 : 1). The age peak of the disease occurs after menopause in the mid-50s. Management of Sjögren Syndrome is often aimed at symptomatic relief using lubricants, fluid intake, corticosteroids and other systemic agents. Understanding the Sjögren Syndrome in Ayurveda involves the hypothetical understanding of the varied nidanas involved like Udakavaha srotodushti, ama, viruddhahara, ruksha guna vriddhi of vata, ekanta hita and ahita. Based on the lakshanas, Sjögren Syndrome can be understood under the banner of Vatarakta and Vyadhishamatwam. Based on the avastha present at the time of diagnosis, the chikitsa changes respectively.
[Full Text Article]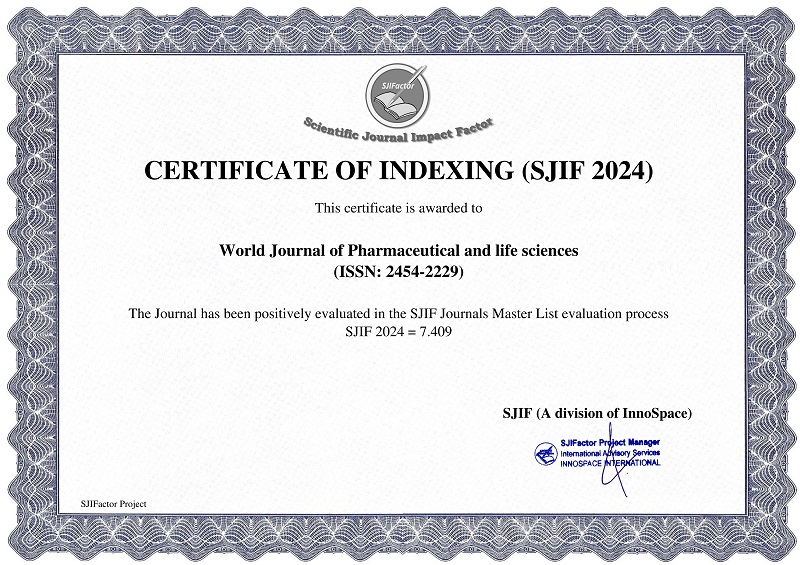 BEST PAPER AWARDS
World Journal of Pharmaceutical and life sciences Will give best paper award in every issue in the from of money along with certificate to promote research .
Best Article of current issue
Download Article : Click here