Abstract
INFECTIVE ENDOCARDITIS ON PATENT DUCTUS ARTERIOSUS: ABOUT A CASE
Hariniaina Ravaoavy*, Malick Bodian, Joseph Salvador Mingou, Fatou Aw, Simon Antoine Sarr, Mouhamadou Bamba Ndiaye, Adama Kane, Maboury Diao and Serigne Abdou Ba.
ABSTRACT
Patent ductus arteriosus (PDA) is a relatively common congenital heart disease after ventricular and auricular septal defects. Infective endocarditis with vegetation in the pulmonary artery associated to a PDA, however, a very rare pathology. Some very rare cases treated surgically have been described. We report the case of infectious endocarditis on PDA in an 11-year-old girl hospitalized in the ward for high fever. The clinical examination at the entrance essentially found a fever at 39°C, regular rapid heart sounds, a left subclavicular continuous murmur, a normal pulmonary second heart sound. The electrocardiogram showed sinus tachycardia at 100 cycles per minute, left ventricular hypertrophy. The echocardiogram on admission showed large mobile vegetation in the trunk of the pulmonary artery and left-right shunt on a PDA with an enlargement on the left cavities and moderate pulmonary artery hypertension (PAH). In response to the persistence fever despite amoxicillin and clavulanic acid, we adjusted with bi-antibiotic therapy with Ceftriaxone (100 mg/kg/day for six weeks) and Gentamycin (3 mg/kg/day for two weeks). The evolution was favorable with the disappearance of fever and vegetation at the last echocardiographic check. PDA has been proposed for closure.
[Full Text Article]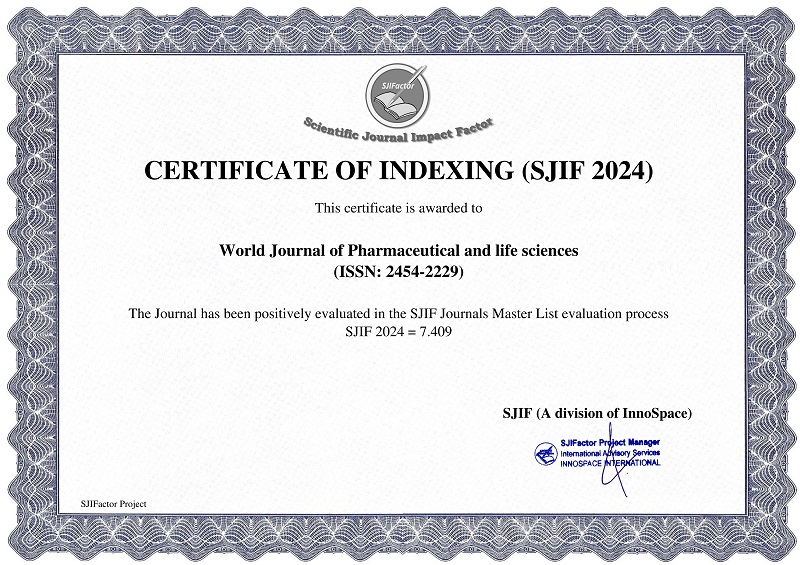 BEST PAPER AWARDS
World Journal of Pharmaceutical and life sciences Will give best paper award in every issue in the from of money along with certificate to promote research .
Best Article of current issue
Download Article : Click here