Abstract
TOXICOLOGICAL AND ANTIHYPERTENSIVE EFFECTS OF ZINGIBER OFFICINALE ROSCOE AQUEOUS EXTRACT ON WISTAR RATS.
Tougouma L. C., Sawadogo T. A., Ouedraogo Y., Bayala B., *Dr. Belemtougri G. R.
ABSTRACT
This study indicated pharmacological basis for the use of Zingiber officinale in some diseases. In mice, aqueous extract of Zingiber officinale showed any toxicity at the doses from 100 to 5000 mg/kg of body weight; subacute toxicity revealed non-significant values of hematological and biochemical parameters at the doses 200 and 400mg/kg of body weight, compared to control. This plant may not affect blood and some organs. Then, aqueous extract of Zingiber officinale decreases normal blood pressure at the doses from 10-3 to 5mg/kg of body weight. This lowering can reach 60 mmHg for high dose of 5mg/kg of body weight. Acetylcholine causes also blood pressure decrease corresponding to Zingiber officinale aqueous extract at dose of 10-1mg/kg. Norepinephrine increased blood pressure at ? 200 mmHg; aqueous extract of Zingiber officinale lowers this hypertension at normal blood pressure from cumulative dose to 1mg/kg of body weight. Our results suggest that Zingiber officinale possesses hypotensive, antihypertensive and innocuousness properties and probably explains its use in hypertension and alimentary.
[Full Text Article]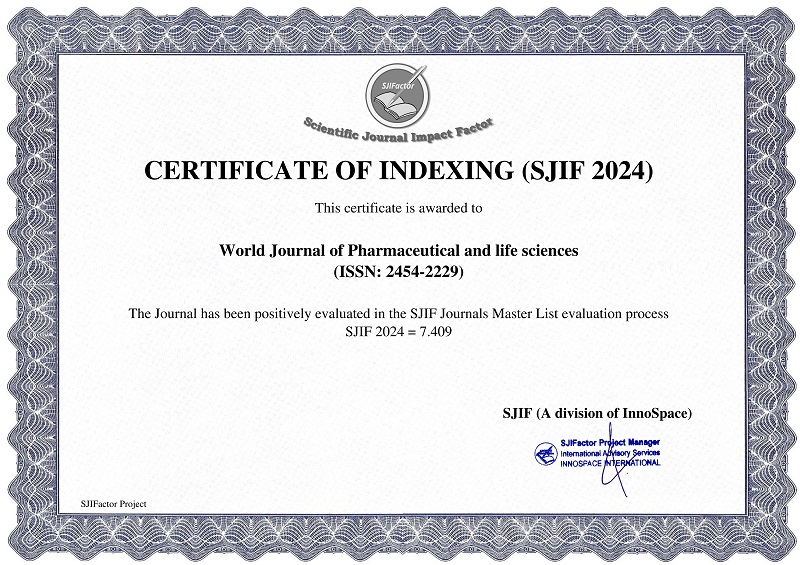 BEST PAPER AWARDS
World Journal of Pharmaceutical and life sciences Will give best paper award in every issue in the from of money along with certificate to promote research .
Best Article of current issue
Download Article : Click here