Abstract
POPLITEAL ARTERY TRAUMA: INTEREST OF THE PROGNOSTIC SCORES: SERIES OF 88 CASES.
Abdelkarim Kharroubi*, Abbes Elmesnaoui, Samir Elkhelloufi, Yaser Sefiani, Brahim Lekehal and
Youness Bensaid
ABSTRACT
Vascular injuries are increasing each day; and those of the popliteal artery are still of grave prognosis, with a mortality of 5 to 10% and an amputation rate of 20 to 30%. Our study includes 88 patients with popliteal arterial trauma admitted to the vascular surgery "D" of the Ibn Sina hospital in Rabat over a period of 37 years (from January 1980 to January 2017). We tried to compare the results for group A (1980- 1998), with those in group B (1998-2017), allowing to evaluate the contribution of the first study on our attitudes in popliteal vascular injuries, and make practical conclusions. 75 men (85,22%) and 13 women (14.77%) were studied, with an average age of 31,94 years. The etiologies are dominated by blunt trauma (74.3%) with a high incidence of road accidents (50%). Except three patients admitted after a period of one year, and four others admitted after one month, the average time patients admitted to the acute phase was 47h12mn, ranging from 97.9 hours in group A to 21.6 hours in group B. 91% with ischemia (46,6% with complete form), 6.4% showed a pulsatile hematoma, and 19.2% with a state of shock associated. Osteo-articular lesions represented the main associated lesions (50.1%), followed by soft tissue lesions (44.9%), venous lesions (26%) and nerve damage (10.4%). The preoperative arteriography was performed in 44.3% cases (67.6% for group A and 29.5% for group B). The treatment consisted of a primary amputation in 19,3% (29.4% for group A to 13.6% for group B), while 79.5% were revascularized (71.6% for group A 84.1% for group B). Musculoskeletal repair increased from 40.6% for group A to 60.5% for group B. We regret 11 deaths (14.7% before 1998 to 11.3% after 1998) and 21 cases of secondary amputations (17.65% to 27.27% from group A to group B). Meanwhile, 47% of members were saved for group A and the rate improved to 52.27% for group B. In our study we noticed that the prognostic scores of MESS and Lescalie were relatively respected. injuries of popliteal artery, particulary closed ones, should be taken seriously. Prognostic scores can often be helpful in preventing excessive amputations or perilous revascularizations.
[Full Text Article]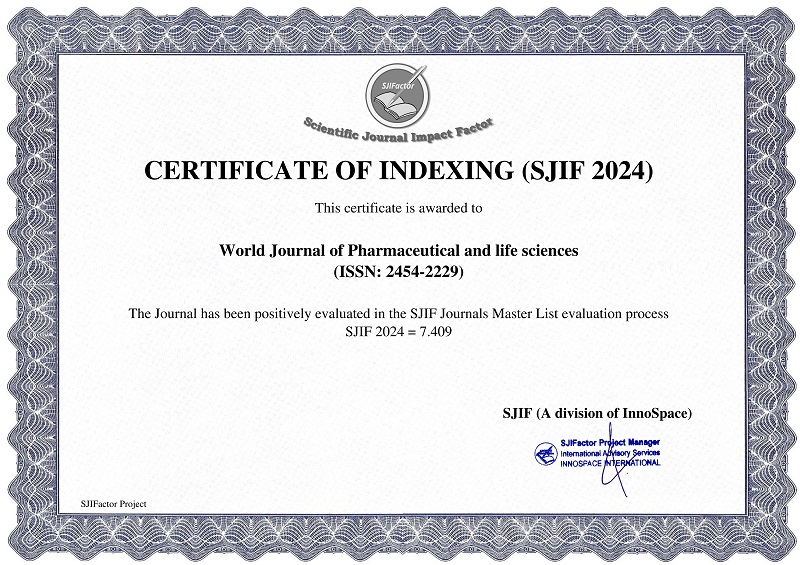 BEST PAPER AWARDS
World Journal of Pharmaceutical and life sciences Will give best paper award in every issue in the from of money along with certificate to promote research .
Best Article of current issue
Download Article : Click here