Abstract
HYPERGLYCAEMIC PROFILE OF PREGNANT WOMEN ATTENDING ANTENATAL CLINIC IN JOS METROPOLIS
Akande T., Ogundeko T.O.* and Nwadike P. J. O.
ABSTRACT
Background: Hyperglycaemia remains one of the world deadliest diseases affecting both pregnant and nonpregnant women thus attesting to the fact that the vulnerable group (i.e. women) and the girl child in the 3rd world countries appear to be perpetually hopeless. The aim of the study was to determine the plasma glucose profile in selected pregnant women attending antenatal clinics in two selected Hospitals in Jos metropolis of Plateau State, Nigeria. Methods: This was a retrospective study in which 120 subjects were recruited from a Teaching and a Private Hospital in Jos metropolis. They were grouped into two - group 1 (non-pregnant/control) and group 2 (pregnant) which were further subdivided according to 1st, 2nd and 3rd trimesters with 30 women in each. Fasting blood sugar (FBS) (mmol/L) and body weight (kg) were determined. Result: Mean plasma glucose level in nonpregnant women was 4.0mmol/L, while that of pregnant women was 3.0mmol/L in the first trimester, 3.7mmol/L in the second trimester and 3.6mmol/L in the third trimester respectively. There was a significant change in plasma glucose t=3.19 in pregnant women p<0.05 as compared to control. Also significant change was observed in pregnant women t=4.72 in their first trimester p<0.05. However, there was no difference in glucose level in 2nd and 3rd trimester respectively p>0.05 as compared with control. Conclusion: There was a significant change in plasma glucose during pregnancy. Routine blood glucose screening should however be upheld for pregnant women in order to ascertain diabetes–induced pregnancy.
[Full Text Article]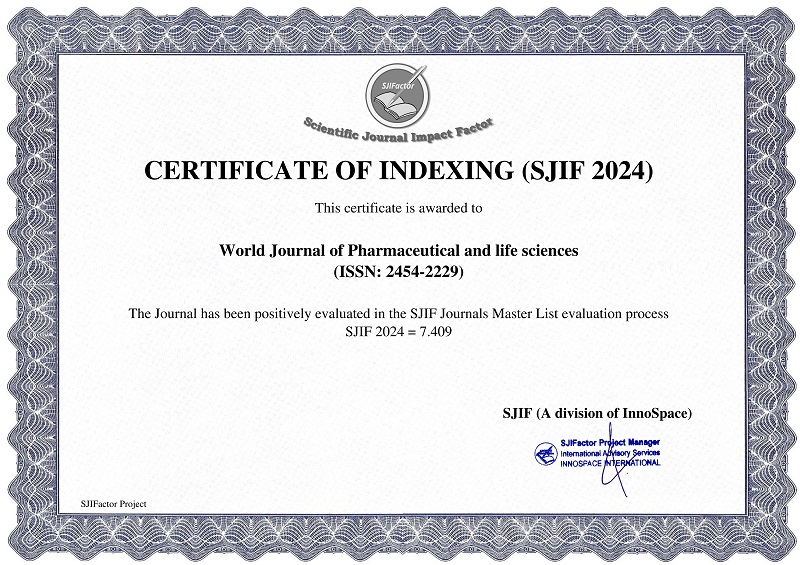 BEST PAPER AWARDS
World Journal of Pharmaceutical and life sciences Will give best paper award in every issue in the from of money along with certificate to promote research .
Best Article of current issue
Download Article : Click here