Abstract
GASTRO RETENTIVE DRUG DELIVERY SYSTEM OF CEFPODOXIME PROXETIL
Dileep Kumar G.*, Sd. Moeen, A. V. Suresh Babu, Hari Prasath K., Siddhartha L., P. Ramanjaneyulu, Lakshmaiah P., Samuel M., Sudhakara Rao G., Dr. Sudhakara Rao G.
ABSTRACT
Gastric emptying is a complex process, one that is highly variable and that makes in vivo performance of drug delivery systems uncertain. A controlled drug delivery system with prolonged residence time in the stomach can be of great practical importance for drugs with an absorption window in the upper small intestine. The main limitations are attributed to the inter and intra subject variability of gastro-intestinal (GI) transit time and to the non-uniformity of drug absorption throughout the alimentary canal. Floating or hydro dynamically controlled drug delivery systems are useful in such applications. Various gastro retentive dosage forms are available, including tablets, capsules, and pills, laminated films, floating microspheres, granules and powders. Floating system have been gaining attention due to the uniform distribution of these multiple-unit dosage forms in the stomach, which results in more reproducible drug absorption and reduced risk of local irritation. Such systems have more advantages over the single-unit dosage forms. The present work briefly addresses the physiology of the gastric emptying process with respect to floating drug delivery systems. The purpose of this review is to bring together the recent literature with respect to the method of preparation, and various parameters affecting the performance and characterization of floating system.
[Full Text Article]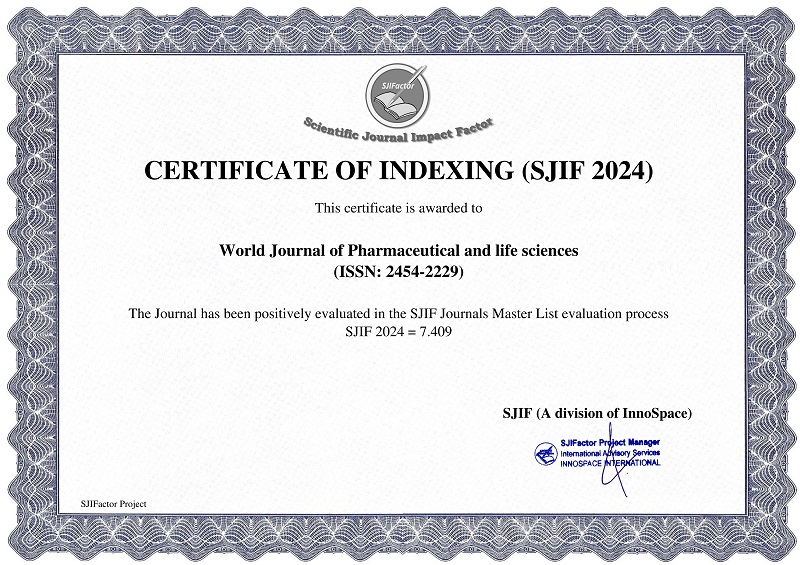 BEST PAPER AWARDS
World Journal of Pharmaceutical and life sciences Will give best paper award in every issue in the from of money along with certificate to promote research .
Best Article of current issue
Download Article : Click here