Abstract
CHEMICAL CONSTITUENTS AND ANTIMICROBIAL ACTIVITY OF SAUDI PRUNUS MAHALEB L. (ROSACEAE) SEEDS
Abdel Karim M.*, Solima I. and Weam A.K.
ABSTRACT
Prunus mahaleb L.(Mahaleb) is a perennial tree reaching about 2-10m in height in the family Rosaceae. Different parts of the plant have been used traditionally against many human disorders. In this study the oil from Prunus mahaleb was studied by GC-MS and the antimicrobial activity was evaluated. The GC-MS analysis showed forty constituents. Major constituents are esters of: 9- octadecenoic acid (36.80%), 9,12-octadecadienoic acid (25.87%) and hexadecanoic acid (7.91%). In the cup plate agar diffusion assay, Prunus mahaleb oil showed partial activity against Staphylococcus aureus. It also exhibited partial anticandidal potency.
[Full Text Article]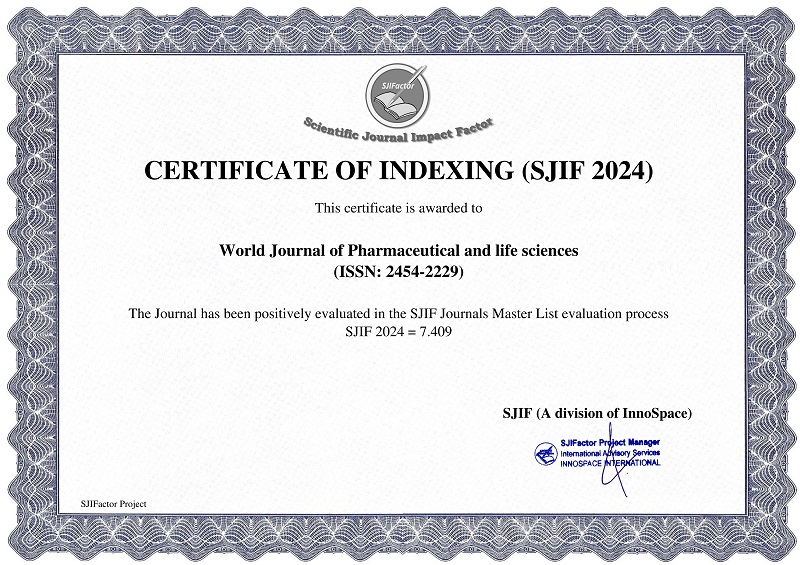 BEST PAPER AWARDS
World Journal of Pharmaceutical and life sciences Will give best paper award in every issue in the from of money along with certificate to promote research .
Best Article of current issue
Download Article : Click here