Abstract
INCIDENCE OF PAPILLARY THYROID CARCINOMA AMONG PATIENTS UNDERWENT TOTAL THYROIDECTOMY IN ALDIWANIYAH TEACHING HOSPITAL.
*Dr. Mohammed H. Alobaidi, MBCHB, FACS. Dr. Amar Dakhil, MBCHB
ABSTRACT
Background: The papillary thyroid cancer is the most frequent cancer among thyroid malignancy, and it is rapidly increasing in incidence due to availability of diagnostic tools. It occur more often in people who live in areas with excessive exposure to radiation and excessive use of x-ray which can be considered as an important risk factors. The Aim of study: To evaluate the incidence of papillary thyroid carcinoma among patients underwent thyroidectomy in Al-Diwaniyah teaching hospital. Patients and methods: A prospective study was conducted in general surgery department ,in Al- Diwaniyah Teaching Hospital during the period from February 2016 to October 2018 on (432) patients with goiter from those 62 patients proved to be papillary thyroid carcinoma Results: From those 62patientsfemale were 49(79%) and male were 13(21%) with solitary thyroid nodule predominant (61.3%). the radiation exposure is highly significant in patients proved to be papillary thyroid carcinoma about (85.48%), the FNAC sensitivity was low about 37%. There were 14 patients re-explored either for remnant thyroid tissue in 11 or for neck dissection in 3 patients. Only 3 cases of occult papillary thyroid carcinoma. Conclusion: Papillary thyroid carcinoma being the most common thyroid malignancy with 14.35%, with X- ray the significant risk factor for papillary thyroid carcinoma during childhood, with the female patients more frequently affected and more common in solitary thyroid nodule, and it's advisable to do central neck dissection.
[Full Text Article]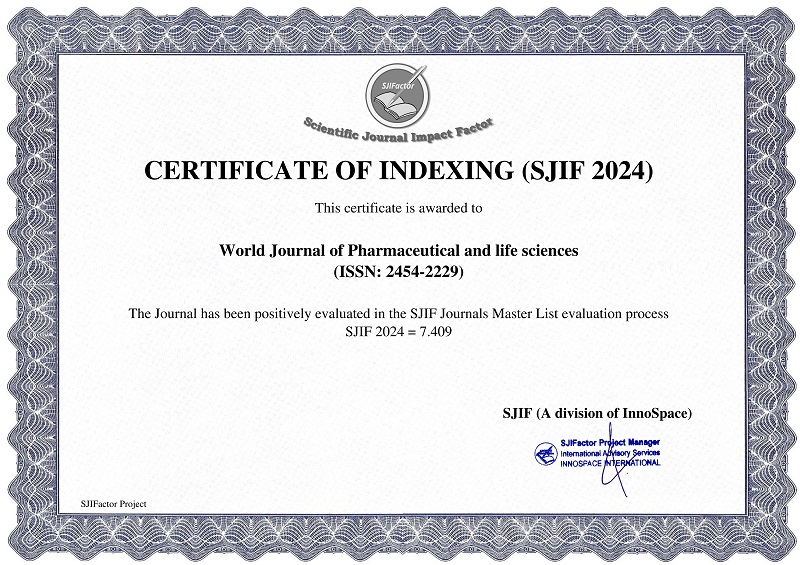 BEST PAPER AWARDS
World Journal of Pharmaceutical and life sciences Will give best paper award in every issue in the from of money along with certificate to promote research .
Best Article of current issue
Download Article : Click here