Abstract
SOIL FUNGI ASSOCIATION AND MINERAL ANALYSIS OF MOSSES FROM WESTERN GHATS OF MAHARASHTRA, INDIA
*Mulay A. V., Chavan S. J., Danole K. R., Torane S. N., and Murumkar C. V.
ABSTRACT
Present attempt emphasizes on report of fungi from rhizosphere soil of Funaria hygrometrica Hedw, Macromitrium sulcatum Brid, Brachymenium turgidum Broth, Bryum coronatum Schwaegr, Hyophila involuta (Hook.) Jaeg. from Western Ghats of Maharashtra. Seven fungal genera like Aspergillus niger Tiegh, Penicillium islandium Sopp, Glomus fasciculatum (Thaxt.) Gerd and Trappe emend. C. Walker and Koske, Rhizopus stolonifer (Ehrenb.) Vuill, Aspergillus fumigatus Fresen. Beitr. Candida albicans (C.P. Robin) Berkhout, Penicillium chrysogenum Thom, Trichoderma citrinoviride Bisset, Fusarium oxysporum Schlecht, Aspergillus flavus Link, Aspergillus unguis (Weil and L. Gaudin) Thom and Raper, Penicillum aurantiogriseum Dierckx, were reported by serial dilution method from rhizosphere soils. The major elements like N, P, K, Ca, Mg, S, Na and minor elements like Fe, Mn, Cu, Zn were isolated from rhizosphere soils. The accumulation of different macro and micronutrient elements in rhizosphere soils varies from species to species. N and Fe concentration was comparatively higher in soil supporting all moss species and the nutrient elements determined in Hyophila involuta is maximum as compared to soil supporting other moss species with few exceptions.
[Full Text Article]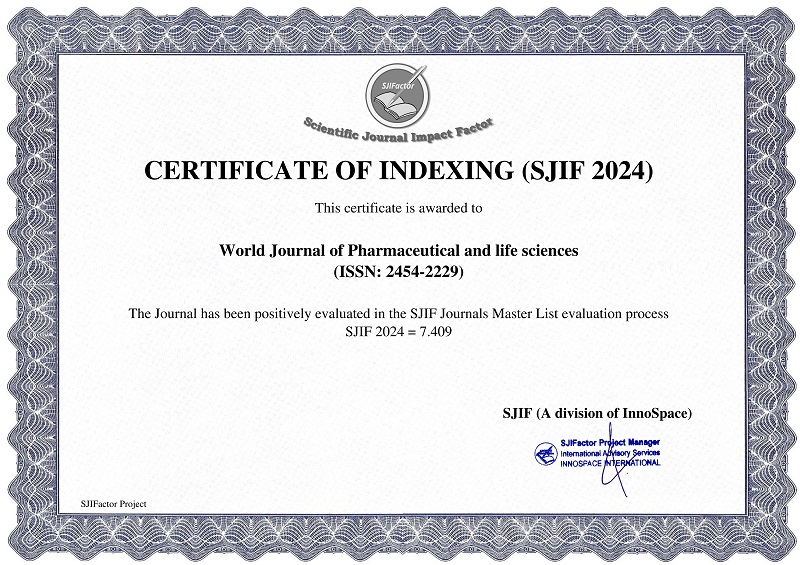 BEST PAPER AWARDS
World Journal of Pharmaceutical and life sciences Will give best paper award in every issue in the from of money along with certificate to promote research .
Best Article of current issue
Download Article : Click here