Abstract
STUDY ON ALGAL DIVERSITY AND PHYSICO-CHEMICAL WATER ANALYSIS OF BARAMATI AREA
*Chaugule A. R., Wadavkar D. S., Kanade, M. B. and Chavan S. J.
ABSTRACT
The paper gives a study of 24 species belonging to 22 genera first time reported from Baramati. Pune, Maharashtra. In the course of study on fresh water phytoplankton spread over ponds, rain water, puddles, ditches storage tanks, Karha river and irrigation canal were special interest showing asexual and sexual reproductive stages.Some observations with special interest to occurrence of algae is compared to physico-chemical (pH, EC, TDS, Temperature) analysis of different eight localities and nutrients like Ca, Mg, Na, K, HCo3, Cl, SO4. This study gives report of the classes Chlorophyta, Bacillariophyta, Euglenophyta and Cyanophyta.
[Full Text Article]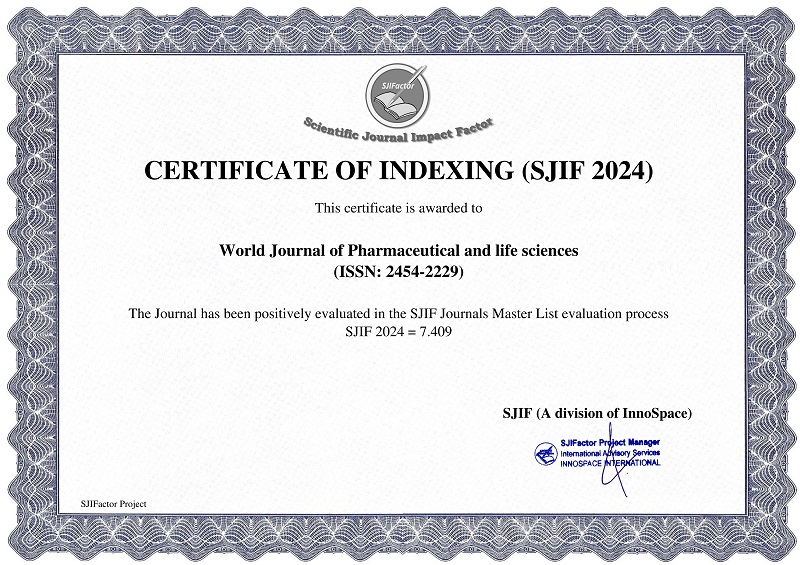 BEST PAPER AWARDS
World Journal of Pharmaceutical and life sciences Will give best paper award in every issue in the from of money along with certificate to promote research .
Best Article of current issue
Download Article : Click here