Abstract
A REVIEW ON ANCIENT REMEDIES OF ALLIUM CEPA FOR HUMAN HEALTH
Sarukh Vikram S., Nagoba Shivappa N.*, Hindole S. S. and Shimge Krishna R.
ABSTRACT
In Modern life disease and disorder widely increases some of them like skin diseases, Heart problems, bone disorders, Diabetes, Hair Loss etc. because changes in life style, poor diet, vitamin deficiency, genetics, Hormonal changes, Bacterial infection, synthetic drug decreases ability to prevent or cure disease or side effect. That diseases or disorder prevent in ancient times using food plants as medicines purpose. Now, that concept is helpful to utilize in now a days for preventing disease or disorders. Plants are the traditional form of Indian medicine which was developed by ancient years because plants are provides more health benefits of humans with no side effect. The herbaceous plant Allium cepa (onion). It belongs to family "Liliaceae" and has Latin name "Allium cepa". In Hindi it is known as Pyaj. Onion is a multipurpose food plant that is used as traditional Indian spices. It contains some sulfur containing compounds, flavonoids, proteins, Vitamins and Minerals. Onion is used to relieve headaches, coughs, snake bite , hair loss, Wound Healing, Hypertension, common cold and diuretics etc. Onion is known as Palandu in Sanskrit. Its medicinal properties and physical properties are explained in texts of ayurveda. Ayurveda Acharyas have explained the uses of onion in various health conditions and have classified onions based on their colours. It has great health significance and is consumed for nutritional and health benefits for last centuries. India is the 2nd largest onion growing and exporter country in the world.
[Full Text Article]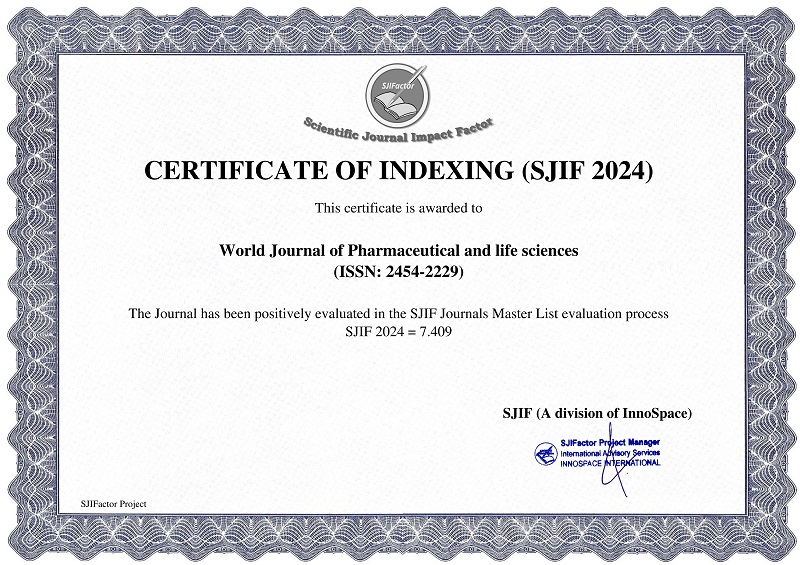 BEST PAPER AWARDS
World Journal of Pharmaceutical and life sciences Will give best paper award in every issue in the from of money along with certificate to promote research .
Best Article of current issue
Download Article : Click here