Abstract
EFFECT OF TAPPING INTENSITY AND TREE DIAMETER ON GUM ARABIC YIELD OF ACACIA SENEGAL (L) WILD IN SOUTHERN ETHIOPIA
Semegnew Tadese*, Mulugeta Lemenih, Brehane Melese, Galgalo Dika and Dr. Prema Kumar Dara
ABSTRACT
Gum arabic, a natural product used in numerous industries, is obtained from species of Acacia senegal. Ethiopia is one of the producer countries with large potential for future sustainable production. Until now gum arabic production from Ethiopia comes mainly from collection on naturally oozing tears of Acacia species. Tapping to
improve production quality and quantity is not common practice in Ethiopia. This study investigated the effect of tapping of A. Senegal trees on gum arabic yield. A factorial experiment arranged in randomized complete block design (RCBD) in which four levels of tapping intensity and three levels of tree size (diameter classes) was used. Gum yield increased with tapping intensity but decreased with increasing tree size (diameter). Gum yield also decreased from first to second picking rounds. The results show that gum yield can be increased significantly by tapping, which can be used to boost income of the producing rural community.
[Full Text Article]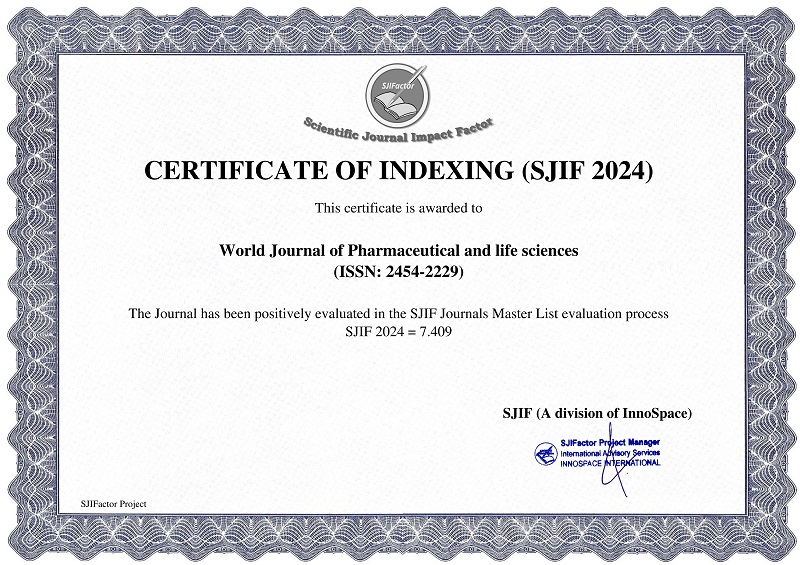 BEST PAPER AWARDS
World Journal of Pharmaceutical and life sciences Will give best paper award in every issue in the from of money along with certificate to promote research .
Best Article of current issue
Download Article : Click here