Abstract
BIOLOGICAL EVALUATION OF ETHYL-2-METHYLQUINOLINE-3-CARBOXYLATE IN MYOCARDIAL ISCHAEMIA REPERFUSION INJURY
Sharma Poonam*, Kaur Kamaldeep, Chawla Amit, Dhawan R.K.
ABSTRACT
Isolated perfused heart preparation has been employed in the present study because it permits the use of pharmacological interventions without any interference due to changes in systemic circulation. Electrical pacing has not been used in this study because it is reported to release norepinephrine. Oxidative stress parameters in the present study have been assessed spectrophotometrically. PGC-1? interacts with GCN-5, an acetyl-transferase that has been shown to acetylate and inhibit PGC-1? activity in vitro and in vivo. PGC-1? levels are reduced in heart following MI by coronary artery ligation in rats while treatment with angiotensin II receptor blockers. Moreover, impairment of the PGC-1?-mediated mitochondrial biogenesis increased heart vulnerability to IRI and up-regulation of PGC-1? pathway confers protection against simulated I/R in cardio-myoblast cells.
[Full Text Article]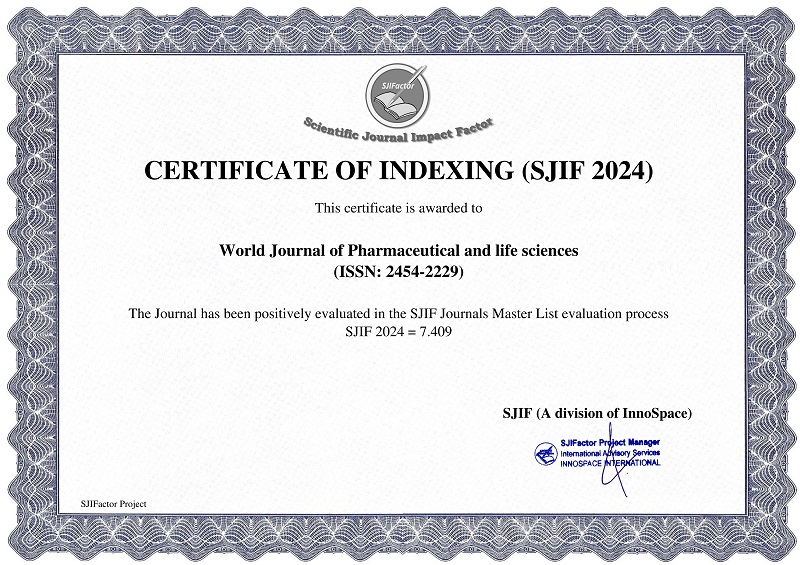 BEST PAPER AWARDS
World Journal of Pharmaceutical and life sciences Will give best paper award in every issue in the from of money along with certificate to promote research .
Best Article of current issue
Download Article : Click here