Abstract
FORMULATION AND EVALUATION OF ORAL FLOATABLE IN SITU GEL OF OFLOXACIN FOR STOMACH SPECIFIC DELIVERY
Rishana K. V.*, Dr. Suja C. and Shuhaib B.
ABSTRACT
The present investigation deals with the formulation and evaluation of sodium alginate based floating oral In situ gel of Ofloxacin for the eradication of Helicobacter pylori in stomach, which undergo pH dependent sol-gel transition. Sodium alginate used as a polymer and CaCO3 was used as a cross-linking agent. The formulation is in solution before administration, after administered undergoes gelation to form a gel. The formulation is carried out with pH induced ion gelation method. The in-situ gel is evaluated for viscosity, drug content, pH, in vitro gelling capacity, in vitro floating ability and in vitro release profile characteristics. From designed set of experiments, it was evident that formulation containing 2 Gram of sodium alginate and 500 milligram of calcium carbonate control the release of drug for longer duration this formulation show release of about 76.886% after 10 hour and the gel float for more than 12 hours.The study points to the potential of in situ gel in terms of better patient compliances, ease of administration, and prolonged gastric retention.
[Full Text Article]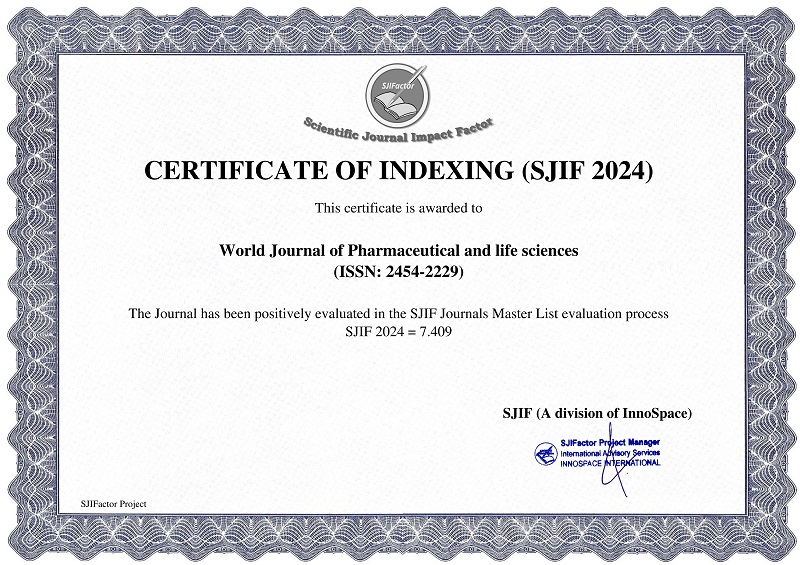 BEST PAPER AWARDS
World Journal of Pharmaceutical and life sciences Will give best paper award in every issue in the from of money along with certificate to promote research .
Best Article of current issue
Download Article : Click here