Abstract
NUTRITION AND WOUND CARE
*Dr. R. S. Gaayathri Krishna, Dr. Anjali Bharadhwaj and Dr. Shailaja S. V.
ABSTRACT
Nutrition is one of the most basic of medical issues and is often ignored as a problem in the management of wound patients. Inadequate dietary intake and poor nutritional status have been identified as key risk factors for protracted wound healing. Suboptimal nutrition can alter immune function, collagen synthesis and wound tensile strength, all of which are essential in the wound healing process. Not all wounds are equal, but nutrition is a common denominator for all wound patients. Similarly wound care also plays important role in faster wound healing. All wound patients need care but especially it is given for bedridden patients with compromised skin integrity in order to prevent pressure ulcers. Wound care is a multidisciplinary specialty requiring many physiologic and immunologic processes as well as physical, social and societal factors to achieve successful wound closure. In Ayurveda Acharya Sushrutha had given more importance to Vrana and had dedicated so many chapters for diagnosis and treatment of Vrana. By understanding these concepts and by asking the patients to follow this will have good results in proper wound healing.
[Full Text Article]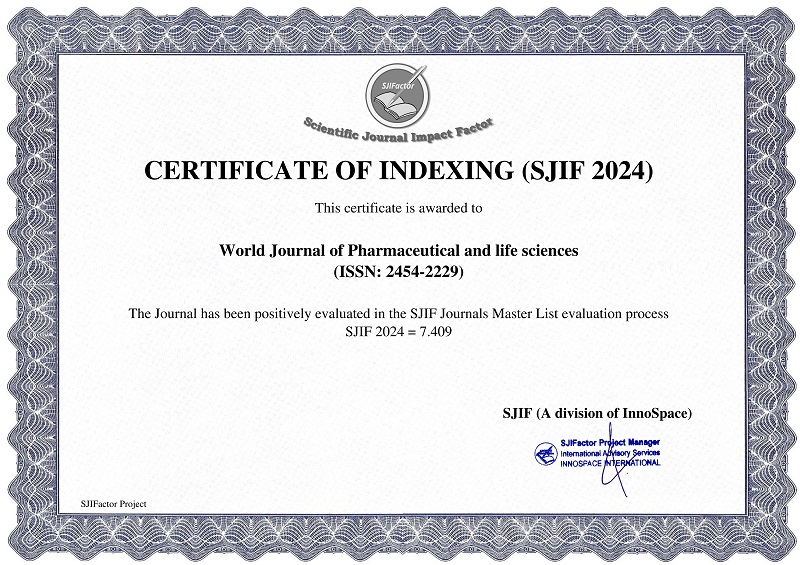 BEST PAPER AWARDS
World Journal of Pharmaceutical and life sciences Will give best paper award in every issue in the from of money along with certificate to promote research .
Best Article of current issue
Download Article : Click here