Abstract
THE ANTI-HUMAN HERPESVIRUS TYPE 6 IGM POSITIVITY RATE IN CHILDREN WITH ROSEOLA INFANTUM IN DIYALA PROVINCE
Noor A. Hasan*, Hasan A. SH. and Mehdi SH.
ABSTRACT
Background: Human herpesvirus type 6 (HHV-6) has been shown to infect almost all children by 4 years of age. Primary infection causes an undifferentiated febrile illness, with approximately 30% of children exhibiting the classic clinical manifestations of roseola infantum. Objectives: The current study was design to explore the anti- HHV-6 IgM as a marker of recent infect ion among children with roseola infantum and the effect of certain child and mother characteristics. Materials and methods: This is a cross sectional study conducted in Diyala province during the period from August 2017- July 2018. A total of 180 children who were clinically suspected as having roseola infantum were enrolled. They aged 1-24 months with a mean age ± SD 12.23 ± 6.11 months, consisting of 105 males with mean age ± SD 11.90 ± 5.91 months and 75 female with mean age ± SD 12.94 ± 6.41 months. Venous blood samples were collected. Sera were separated and tested for the anti-HHv-6 IgM (Sunlong Biotech, China) by Enzyme Linked Immunosorbant assay (ELISA) technique. Statistical analysis was done using SPSS version 23 and P value < 0.05 was considered significant. Results: The overall anti-HHV-6 IgM positivity rate among children with clinically suspected roseola infantum was 45.6% and the highest IgM positivity rate was insignificantly higher among the age group 1-6 months (P= 0.958). Again, the positivity rate was insignificantly higher among males compared to females (49.5% vs 40.0%, P= 0.207). Additionally, the positivity rate was insignificantly higher among children on breast milk compared to other feeding categories (P= 0.217). Furthermore, children who had negative history of hospitalization had higher but insignificant positivity rate compared to their counterpart (46.0% vs 43.9%, P= 0.809). Ultimately, an insignificantly higher positivity rate was found among children whom their mother complain an infection during pregnancy period compared to those with negative counterpart (48.5% vs 44.9%, P= 0.709). Conclusion: Detection of anti-HHV-6 IgM is fundamental beside the clinical features for the primary diagnosis of roseola infantum in children.
[Full Text Article]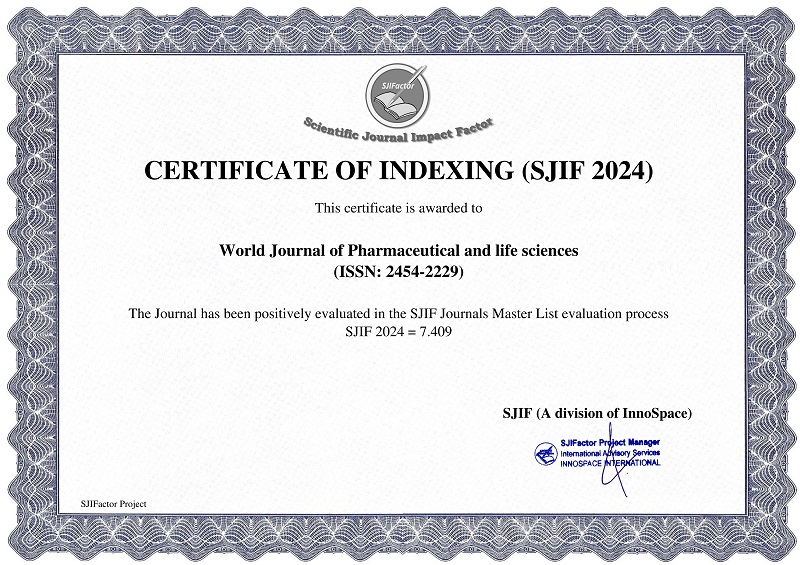 BEST PAPER AWARDS
World Journal of Pharmaceutical and life sciences Will give best paper award in every issue in the from of money along with certificate to promote research .
Best Article of current issue
Download Article : Click here