Abstract
FORMULATION AND EVALUATION OF ANTIFUNGAL GEL FROM ETHANOLIC EXTRACT OF TECTONA GRANDIS
Hingmire Yashashri R.*, Shinde Sonali D., Tamboli Alfiya A., Yadav Sulbha S., Saptal Abhijeet B. and Sargar Natha B.
ABSTRACT
The objective of the present investigation was to develop and evaluate antifungal gel from ethanolic extract of Tectona grandis. The frontal leaves of Tectona grandis (Verabenaceae) are widely used in the folklore to treat various kinds of infection. The aim of this study was, to formulate new effective antifungal gel from ethanolic extract. The gel was formulated by using different polymers with different concentration as Carbopol 934. The physiochemical parameters of formulations (pH, viscosity, Spreadability and homogeneity) were determined. Drug Extract -excipients compatibility studies were confirmed by carrying out FT-IR. Candida albicans & Aspergillus Niger was used as a model fungus to evaluate the antifungal activity. Gel formulations good in appearance & Homogeneity & easily spread able. Formulation significantly shows zone inhibition on Candida albicans & Aspergillus Niger. formulations non irritant and not show any skin toxicity.
[Full Text Article]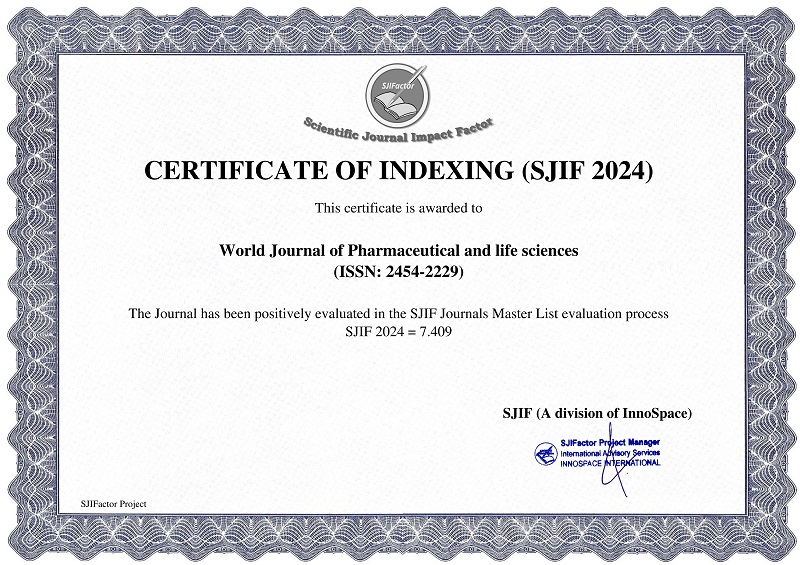 BEST PAPER AWARDS
World Journal of Pharmaceutical and life sciences Will give best paper award in every issue in the from of money along with certificate to promote research .
Best Article of current issue
Download Article : Click here