Abstract
ISOLATION, PARTIAL CHARACTERIZATION AND BIOLOGICAL ACTIVITY OF A FLAVONOL FROM SUDANESE INDIGOFERA OBLONGIFOLIA (FABACEAE)
Prof. Abdel Karim M.*, Ibrahim H., Salah El-Deen H. and El-Hafez M.
ABSTRACT
Various Indogifera species have been investigated. Indigofera oblongifolia possesses, beside others, hepatoprotective, antimicrobial and lipoxygenase inhibition properties. In this study the heartwood of Indigofera oblongifolia was extracted with ethanol and the extract was purified by paper chromatography which gave a pure flavonol. The structure of this flavonoid was partially elucidated via some spectral tools (UV and 1HNMR). The antimicrobial activity of the isolated flavonol was assessed via cup plate agar diffusion bioassay. Compound I showed good activity against Escherichia coli, Pseudomonas aeroginosa and Bacillus subtillus. It also showed weak activity against Aspergillus niger and weak anticandidal potency. The compound also exhibited partial activity against Staphylococcus aureus. The antioxidant properties of compound I has been studied and excellent free radical scavenging capacity has been detected.
[Full Text Article]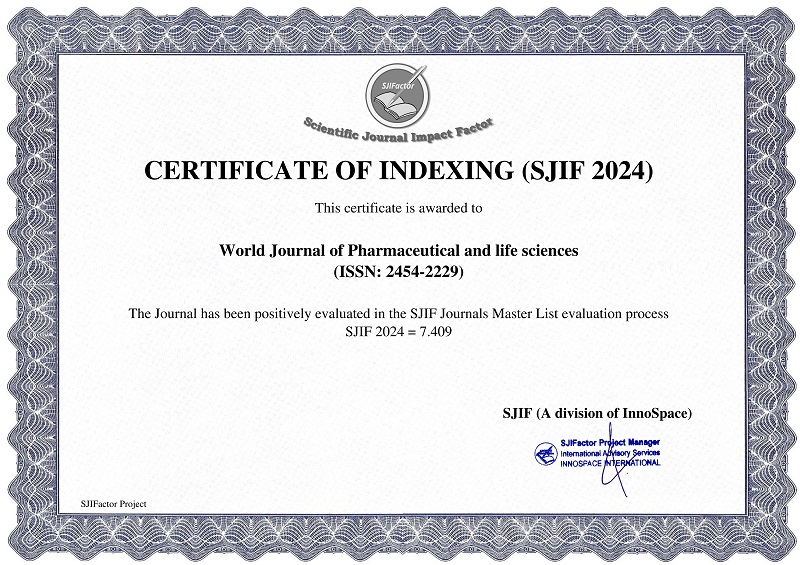 BEST PAPER AWARDS
World Journal of Pharmaceutical and life sciences Will give best paper award in every issue in the from of money along with certificate to promote research .
Best Article of current issue
Download Article : Click here