Abstract
A STUDY TO COMPARE THE SYSTEMIC EXPOSURE OF LUMEFANTRINE FOLLOWING A SINGLE DOSE ADMINISTRATION OF COARTEM® (80 MG/480 MG) WITH AND WITHOUT MILK IN HEALTHY VOLUNTEERS
Tembe Fokunang E. A.*, Nyinchia L. N., Ndikum V., Nguidjoe E. M., Nnanga N.E., Kaba Nubia, Fokunang C. N.
ABSTRACT
Malaria is still prevalent in many countries and is endemic throughout Cameroon. Despite innovative malaria control tools, morbidity and mortality still remain high, especially in Sub-Saharan Africa. Artemisinin based Combination Therapy (ACT) is the first line treatment for uncomplicated Plasmodium falciparum malaria. ACTs combine artemisinin derivatives with a long lasting partner drug. Amongst these ACTs is the combination artemether-lumefantrine which was first branded as Coartem® by Novartis in 1999. Co-administration of artemether–lumefantrine with full cream milk or a fatty diet is recommended to improve the absorption and bioavailability of both drugs. Although research states that a fatty meal or full cream milk will increase the bioavailability of lumefantrine, the local brand of evaporated milk, Peak® regular has no documented evidence to increase the bioavailability of the antimalarial drug lumefantrine. The objective of this study was to determine the safety and tolerability profiles of healthy volunteers to Coartem® (80 mg/480 mg) and to compare the exposure (Cmax, Tmax and AUC (0-8 hours)) of lumefantrine following single dose administration of Coartem® (80 mg/480 mg) with or without milk in healthy volnteers (HV). A prospective study was carried out from February 2017 to May 2017. In an open-label, two-period crossover study, 14 healthy adult volunteers were randomized to two different sequences to receive a single oral dose of Coartem® (80 mg artemether/480 mg lumefantrine) with 150 ml of water or 150 ml of Peak® regular milk on separate occasions. A washout period of two weeks was allowed between the two treatments. Safety parameters such as blood pressure (BP) and heart rate (HR) were followed up at predose (0 hour), and at postdose (2, 8 and 168 hours). Blood samples were collected at predose (0 hour) and at postdose (0.5, 1, 2, 4, 6 and 8 hours) and assayed using high-performance liquid chromatography with ultraviolet detection. Pharmacokinetic exposure parameters determined were; peak concentrations (Cmax), time to peak concentrations (Tmax) and area under concentration–time curve restricted to 8 hour after single dosing (AUC (0–8)). A paired t- test was used to compare the two treatments and p values <0.05 were considered to be statistically significant. The mean HR and BP prior to dosing (0 hour), post dosing (2 and 8 hours) and 7 days after treatment (168 hours) were found to be within acceptable limits of normal heart rate (i.e. 60-100 bpm) and BP (90-130 mm/Hg) throughout the study. The single dose of Coartem® 80 mg/480 mg was well tolerated by participants as no adverse effects were recorded. Plasma samples were analysed only for the 12 participants who completed the study. Cmax mean values of 2.3 ?g/ml following Coartem® + water administration and 6.02 ?g/ml following Coartem® + peak® regular milk administration were noted. The mean AUC (0-8 hours) values of 9.27 ?g/ml.hr and 22.91 ?g/ml.hr were observed for the two treatments (i.e. Coartem® + water and Coartem® + peak® regular milk respectively). This difference between the two treatment groups was statistically significant with a p-value < 0.012. This study revealed that the single dose administration of the antimalarial drug Coartem® 80 mg/480 mg was well tolerated by healthy volunteers. The bioavailability of lumefantrine increased by 3 fold with respect to Cmax and AUC (0-8 hours) when administered with the local brand peak® regular milk compared to administration with water.
[Full Text Article]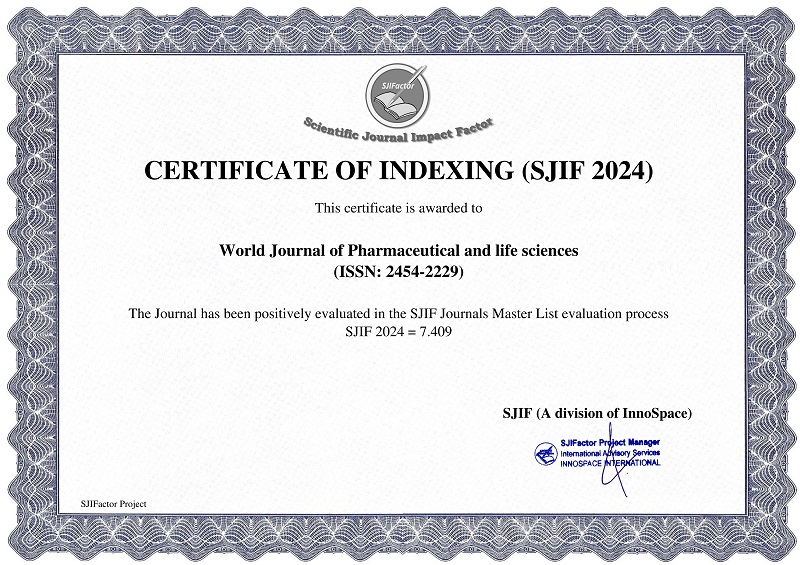 BEST PAPER AWARDS
World Journal of Pharmaceutical and life sciences Will give best paper award in every issue in the from of money along with certificate to promote research .
Best Article of current issue
Download Article : Click here