Abstract
AN OPEN LABEL CLINICAL STUDY TO EVALUATE THE EFFICACY OF SEKA AND NASYA IN THE MANAGEMENT OF SHUSHKAKSHIPAKA W.S.R TO DRY EYES IN MENOPAUSAL WOMEN
*Padmavathi T. Rathod, Mamatha K. V., Sujathamma K.
ABSTRACT
Dry eye is a multifactorial ocular surface disease that causes ocular pain, discomfort and decreased visual acuity. It is more prevalent in the females and specifically in the menopausal and postmenopausal age group. This is believed to be due to the changes in balance of sex hormones. Sex hormones - Estrogen and Androgen. These hormones play an important role in the ocular surface function and homeostasis, during the whole life in both the sexes. Accomplished by estrogenic and androgenic receptors on the Cornea, Conjunctival epithelium and Meibomian glands it helps in production of tear film which includes aqueous, lipid, and mucin layer. Various mechanisms such as decrease in hormonal levels, shift in feedback mechanisms, and changes in receptor receptivity interplay to alter the ocular surface homeostasis and subsequently results in dry eye. On analysing through our science it can be emphasized that there is a involvement of Vata dosha and Rasa dhatu dushti during this stage in pathology. Shushkakshipaka which has metagorical features with Dry eyes of compendia also has Vata and pitta as Pathogenesis. Thus a clinical study was taken up to understand the samprapti vighatana of patients diagnosed with Shushkakshipaka during menopausal and post menopausal period and were subjected for Prapundarikadi seka for 7 days followed by Shadbindu taila nasya for 7 days. The outcome of the study revealed significant changes before and after the treatment, but long duration studies are needed to assess the sustained results.
[Full Text Article]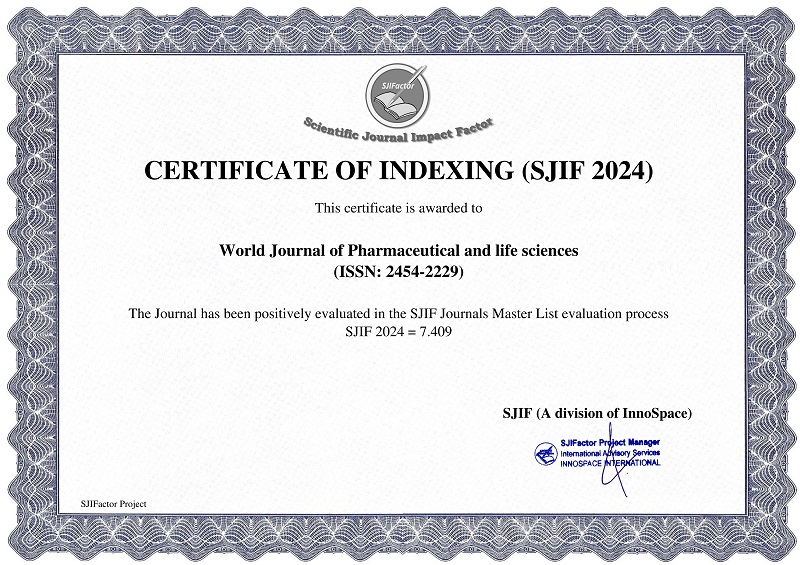 BEST PAPER AWARDS
World Journal of Pharmaceutical and life sciences Will give best paper award in every issue in the from of money along with certificate to promote research .
Best Article of current issue
Download Article : Click here