Abstract
ANJANA -THE DEFOGGER IN AGEING LENS
Harsha S.* and Dr. Mamatha K. V.
ABSTRACT
Ayurveda the science of life aims both preventing and curing the diseases. Among the many contributions of Ayurveda in drug delivery system – "Kriyakalpa," plays an important role as it is tissue targeted, simple and an effective method of drug administration to eyes including the posterior segment disorders. Kriya kalpa means specific formulation used for therapy in Netra chikitsa which includes Bidalaka, Ascyothana, Anjana, Seka, Pindi, Tarpana and Putapaka. Among them Anjana plays prime importance in treating degenerative conditions and age related changes. As people in the world live longer the number of people with cataract is anticipated to grow. According to the latest assessment, cataract is responsible for 51%of world blindness, which represents about 20 million people. Cataract is the loss of transparency of the lens in the eye which develops as a result of altered physical and chemical properties in lens. Although cataract can be surgically removed, in many countries barriers exists that prevent patients to access surgery. However due to its high cost, post-operative complications, it necessitates researchers to find out other modalities of treatments for cataract, to breakdown patho- physiology of cataract. Anjana application expels thekapha dosa and does lekhana karma, which have longer tissue contact time than any other topical ocular administration. Eye diseases can be prevented and normal vision can be restored for longer time by following dinacharya and Anjana is one among the dinacharya mentioned by our acharyas also. Anjana types, indications, probable mode of action, and its importance in cataract will be discussed here.
[Full Text Article]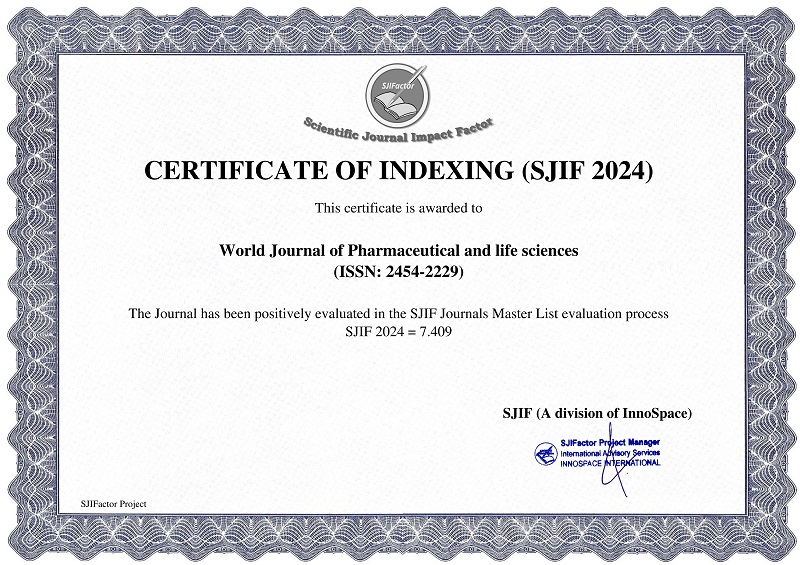 BEST PAPER AWARDS
World Journal of Pharmaceutical and life sciences Will give best paper award in every issue in the from of money along with certificate to promote research .
Best Article of current issue
Download Article : Click here