Abstract
EVALUATION OF PUṄKAM PŪ CŪRAṆAM AND IDENTIFICATION OF PUṄKAM PŪ BY HPTLC METHOD
Anitha John*, Gayathri Devi V., Neethu Kannan B., Shyamala Rajkumar and Kanagarajan A.
ABSTRACT
Siddha medicines mainly comprises of plant parts, metals, minerals and some animal substances. Nowadays, the purity and quality of drugs were hampered by adulteration. So, it is mandatory to ensure the quality and safety of drugs. The aim of the present study is to standardize a Siddha formulation, Pu?kam p? c?ra?am and its herbal ingredient Pongamia pinnata (L.) Pierre (Pu?kam p?) by applying suitable standards and using modern techniques. The identification of the herbal ingredient in the c?ra?am is also performed with these methods. Pu?kam p? c?ra?am and Pu?kam p? were subjected to powder microscopical studies, physico-chemical analysis, preliminary phytochemical studies and HPTLC analysis. Physico-chemical parameters such as total ash, acid insoluble ash, solubility in alcohol and water and loss on drying at 105ºC of the c?ra?am and the ingredient were determined by standard methods. Preliminary phytochemical studies revealed the presence of alkaloids, flavonoids, steroids, tannins, carbohydrates, phenols and terpenoids in the c?ra?am and in the ingredient. Organoleptic characters (colour, odour and taste) of the c?ra?am were noted. TLC chromatogram & HPTLC finger print profiles were documented at 254 nm and 575 nm after derivatisation. The present study ensures the quality of the Pu?kam p? c?ra?am and its ingredient Pu?kam p? by evaluating the powder characteristics, physico-chemical constants and HPTLC fingerprints.
[Full Text Article]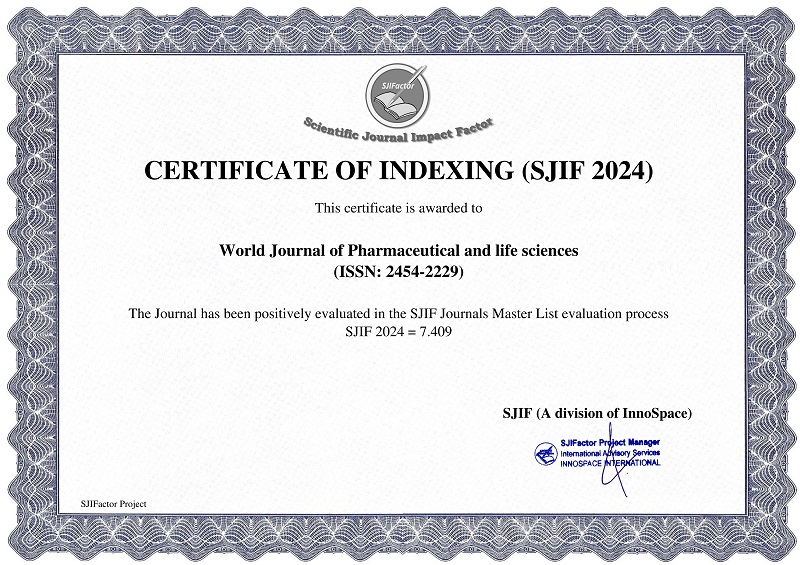 BEST PAPER AWARDS
World Journal of Pharmaceutical and life sciences Will give best paper award in every issue in the from of money along with certificate to promote research .
Best Article of current issue
Download Article : Click here