Abstract
INTERDENTAL PAPILLA- A CORNERSTONE TO FACIAL AESTHETICS!
Dr. Grishmi Niswade* and Dr. Salman Ansari
ABSTRACT
The most common cause of periodontal tissue destruction is plaque induced diseases of the periodontium. The microflora present in the microbial biofilm present on the tooth surface is accountable for the initiation of a host immuno-inflammatory response which indirectly results in the destruction of the underlying periodontal tissues. Apart from periodontal diseases, several other factors are responsible for the appearance of "Black triangle" in the area of interdental papilla, such as position of the tooth in the arch, contour and spacing between two adjacent teeth, improperly contoured prosthesis and restorations and aggressive oral hygiene procedures. Missing or loss of interdental papilla especially in the maxillary anterior region causes difficulty in speech, mastication and aesthetic awareness in the patients. This article reviews the anatomy of interdental papilla and various approaches for the treatment of the same.
[Full Text Article]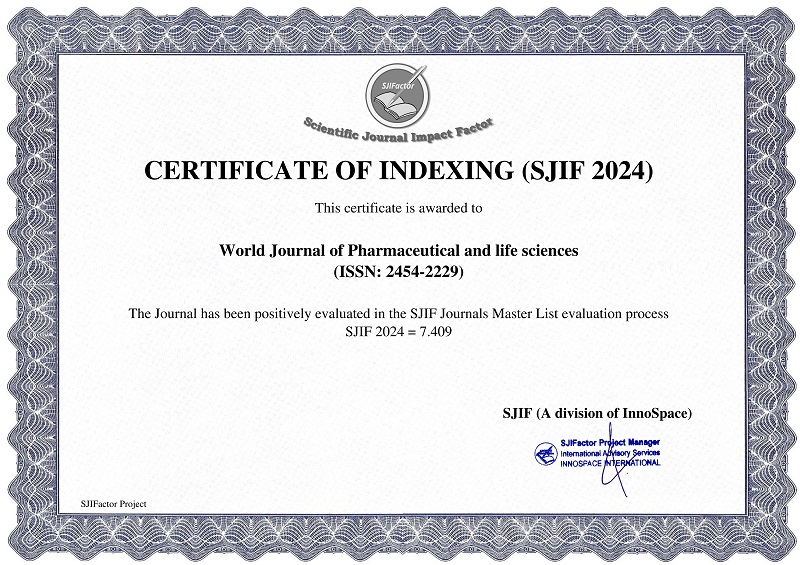 BEST PAPER AWARDS
World Journal of Pharmaceutical and life sciences Will give best paper award in every issue in the from of money along with certificate to promote research .
Best Article of current issue
Download Article : Click here