Abstract
PREVALENCE AND ANTIBIOTIC SUSCEPTIBILITY PATTERN OF STAPHYLOCOCCUS AUREUS ISOLATED FROM READY-TO-EAT FRESHWATER BIVALVE (CORBICULID HETERODONT) IN BAYELSA STATE, NIGERIA.
Akani N. P., *Opukiri S. R., and Douglas S. I.
ABSTRACT
[1] ABSTRACT There has been a significant increase in antimicrobial resistance amongst foodborne pathogens over the past few decades. The increase in antibiotic resistance is associated with foodborne diseases resulting from the consumption of contaminated ready-to-eat foods. This study was carried out to investigate the prevalence and antibiotic susceptibility pattern of Staphylococcus aureus in ready-to-eat Corbiculid heterodont in Bayelsa State. A total of 53 samples were collected from 3 Local Government areas; Sagbama, Southern Ijaw, and Yenagoa and analyzed using standard microbiological methods. There was no difference (p ? 0.05) in the mean Staphylococcal count with Yenagoa having the lowest count (6.08±2.07 log10cfug-1); Sagbama (6.37±1.9 log10cfug-1) and Southern Ijaw, the highest (6.71±1.76 log10cfug-1). A total of 65 isolates of S. aureus were obtained with incidence ranging from 24.62% in Sagbama; 26.15% in Southern Ijaw and 49.23% in Yenagoa. Although isolates showed varied susceptibility pattern with a decreasing trend of resistance in this order; Amoxacillin and Ampiclox (100%) > Streptomycin (80.0%) > Rocephin (53.8%) >Zinnacef (33.8%) > Erythromycin (16.9%) > Ciprofloxacin and Trimethoprim-Sulfamethoxazole (15.4%) > Gentamycin (10.8%), no difference (p ? 0.05) was observed in the various local government areas sampled except for Ciprofloxacin (p ?0.05). The extent of antibiotic resistance reflects the heterogeneous use and abuse of antibiotics in this region hence to adequately know the pattern of multidrug resistance, regular surveillance is required.
[Full Text Article]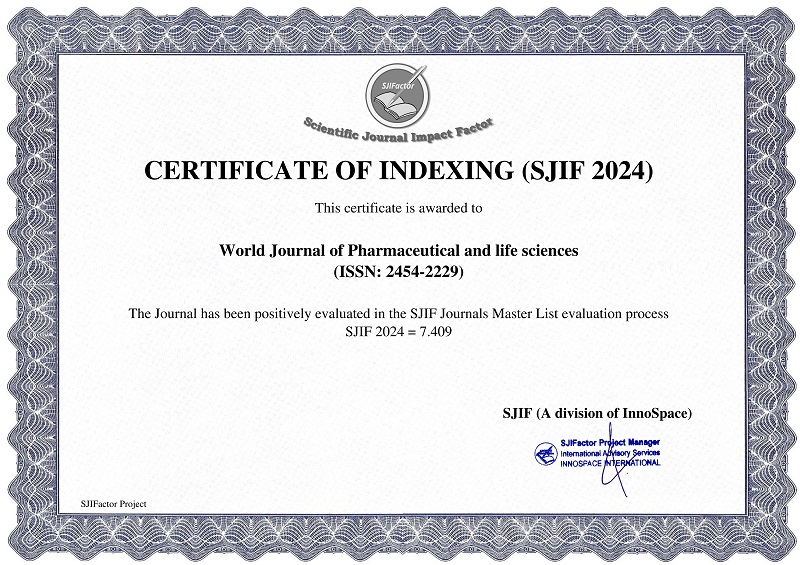 BEST PAPER AWARDS
World Journal of Pharmaceutical and life sciences Will give best paper award in every issue in the from of money along with certificate to promote research .
Best Article of current issue
Download Article : Click here