Abstract
MANAGEMENT OF KIKKISA (STRIAE GRAVIDARUM) IN GARBHINI PARICHARYA (ANTENATAL CARE)
Dr. Sai Prasd A. J. V.*, Dr. Ratna Manikyam B., Dr. Satya Priya, Dr. Babu G.
ABSTRACT
Motherhood is the crowning act in the feminine role of life. She cannot escape from the happenings occurring in reproductive age. Stretch marks are one such type of happenings that occurs at the time of pregnancy. Striae gravidarum are linear lesions that frequently appear during pregnancy and are commonly found in the abdomen and breast. Kikkisa (striae gravidarum) occurs during 7th month of pregnancy with the main symptom of itching sensation. The fully manifested kikkisa creates more discomfort, disturbance of mood and lack of concentration in day-to-day activities. gravidarum, a physiological skin change is a cosmetic feel and discomfort needs medical measures. Ayurveda describes several treatment modalities against the Kikkisa. Oushada sevana, parisheka, abhyanga, lepa, pathyapathya are best-established therapies available for Kikkisa. In the present study the pathophysilology and treatment aspects of Kikkisa in view of gravidarum has been mentioned.
[Full Text Article]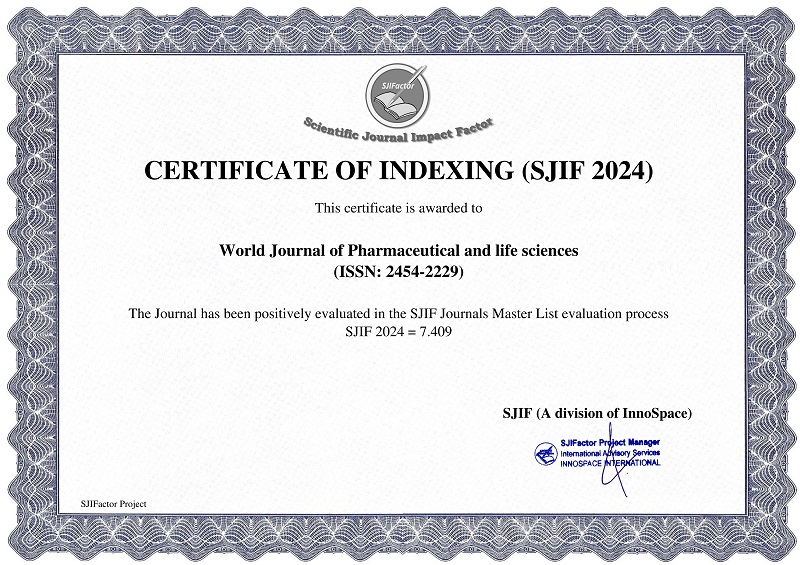 BEST PAPER AWARDS
World Journal of Pharmaceutical and life sciences Will give best paper award in every issue in the from of money along with certificate to promote research .
Best Article of current issue
Download Article : Click here