Abstract
IN-VITRO AND IN-VIVO SCREENING METHODS FOR ELUCIDATING THROMBOLYTIC ACTIVITY OF BAUHINIA RACEMOSA (L)
Akelesh T.*, Gopal V., Jeyabalan G. and Sam Johnson Udaya Chander J.
ABSTRACT
The plant Bauhinia racemosa (L). belongs to the Caesalpiniaceae family. It is popularly known as "Apta" in Marathi, "Kanchnal" in Hindi. Other common names include Mountain Ebony and Kachnar (India and Pakistan). The bark and leaves are known to cure skin diseases, throat troubles, tumours, chronic dysentery, headache and malaria. The aim of the present study is to elucidate the thrombolytic activity of Bauhinia Racemosa (L). Bleeding methods and clotting time assay were the methods employed to determine the thrombolytic activity of Bauhinia Racemosa (L). The effect of clot lysis was compared with streptokinase as a standard drug. Using in vitro clot lysis assay method, the ethanol extract showed an average clot lysis of 90.77 ± 1.67%. The results obtained were significant. The in-vivo thrombolytic activity also showed significant clot lysis compared to that of standard drug. The extract showed activity close to that of the standard. Therefore this study was concluded that the Bauhinia racemosa extract is effective for the treatment of thrombosis and is an effective clot lyser.
[Full Text Article]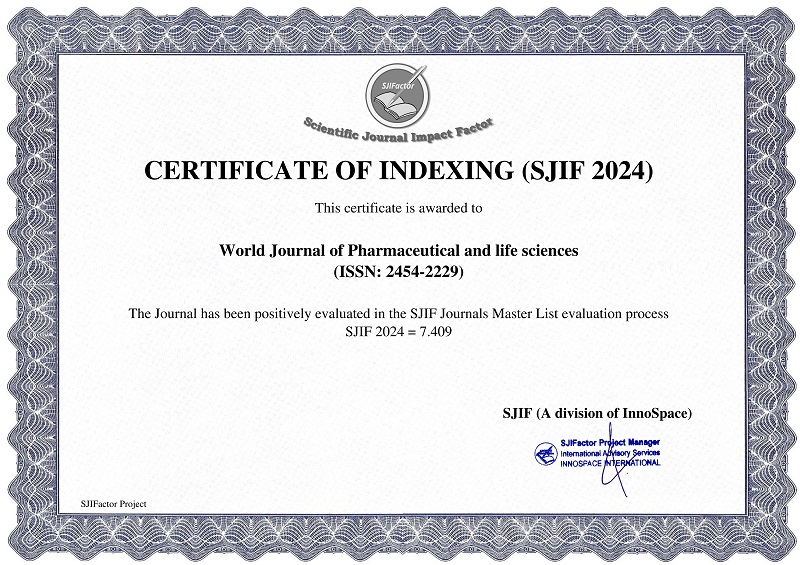 BEST PAPER AWARDS
World Journal of Pharmaceutical and life sciences Will give best paper award in every issue in the from of money along with certificate to promote research .
Best Article of current issue
Download Article : Click here