Abstract
ANTIULCEROGENIC AND ANTIOXIDATIVE EFFECTS OF AQUEOUS EXTRACT OF CHROMOLAENA ODORATA L. (KING AND ROBINSON)
Elion Itou R. D. G.*, Mayela Nkouka S. H. J., Gouollaly Tsiba, Kiéssé D. S., Etou Ossibi A.W. and Abena A. A.
ABSTRACT
This study aimed to evaluate the antiulcer and antioxidative effects of aqueous extract of C.odorata. The antiulcer effect was evaluated in the mice and rat by using HCl/ethanol mixture, ethanol (EtOH) and the indometacin like ulcerogenic agents. The antioxidative effect was evaluated by spectrophotometer by using the technique of reduction of 1,1-Diphenyl-2-picryl hydrazyl (DPPH) radical. The results obtained show that the aqueous extract (400 and 800 mg/kg) protects the gastric mucosa of experiment animals against the ulcers induced by the ulcerogenic agents. However, no effect was observed on the gastric pH. This action could pass by the increasing gastric mucosa production and not by an inhibition of acid secretion. Moreover, the aqueous extract presents an anti-oxidative effect by reduction of DPPH radical.
[Full Text Article]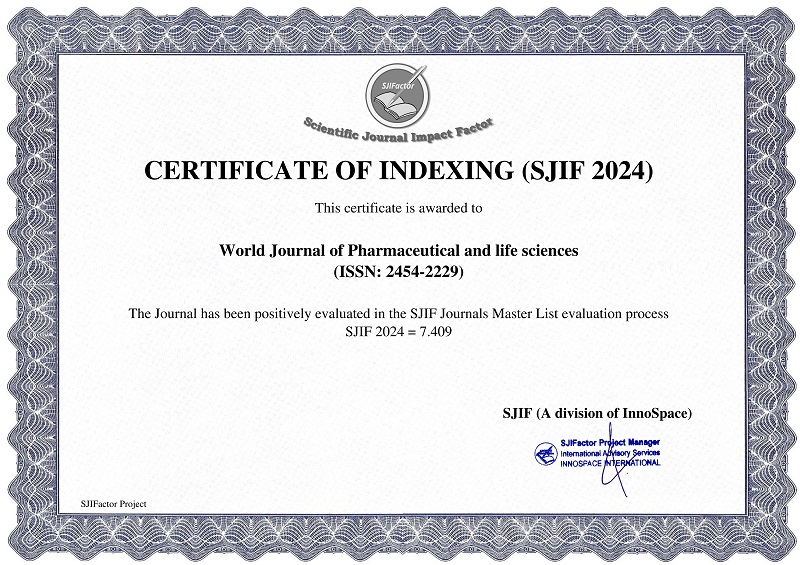 BEST PAPER AWARDS
World Journal of Pharmaceutical and life sciences Will give best paper award in every issue in the from of money along with certificate to promote research .
Best Article of current issue
Download Article : Click here