Abstract
EFFICACY OF BROMFENAC IN PREVENTION OF MACULAR EDEMA FOLLOWING CATARACT SURGERY- A PROSPECTIVE STUDY
A.A. Mohamed Yasir Arafath*, B. Jayaprakash, B. Arul, Juby. O. Chacko, R. Kathirvel and Krishna K. B.
ABSTRACT
A placebo controlled, prospective, randomized, clinicl trial was carried out in our hospital to evaluate the efficacy of bromfenac 0.1% in prevention of macular edema following cataract surgery (Phacoemulsifiction). 120 eyes of 120 patients who underwent cataract surgery with phacoemulsification under topical anesthesia in the ophthalmology department were collected during the period of six months. A thorough literature survey was done on the area of the project to review the past work. From this study, we have concluded that bromfenac 0.1% was found to be effective in prevention of macular edema as none of the patients who were subjected to bromfenac developed macular edema. It can be considered as safe and no complications developed in patients subjected to bromfenac following cataract surgery.
[Full Text Article]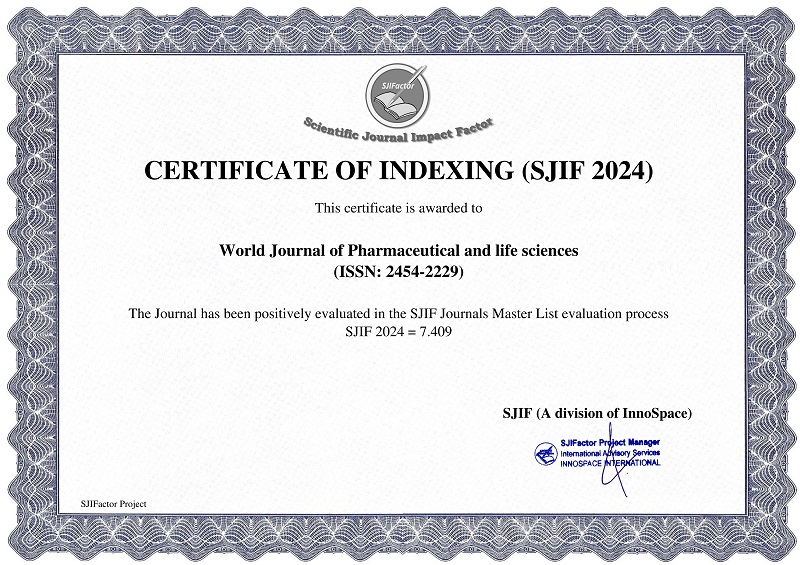 BEST PAPER AWARDS
World Journal of Pharmaceutical and life sciences Will give best paper award in every issue in the from of money along with certificate to promote research .
Best Article of current issue
Download Article : Click here