Abstract
EFFECT OF ANTIBIOSIS ACTIVITY OF AZADIRACHTA INDICA AGAINST SOME WOUND MICROBES
Ramesh R.* and Mohammed Ilyas M. H.
ABSTRACT
In the present study antimicrobial activity of Azadirachta indica was evaluated against pathogenic bacteria (Escherichia coli, Salmonella typhi, Klebisella pneumonia, Proteus sp. and Staphylococcus aureus) and fungi are Aspergillus flavus, A.niger, A.terreus, Penicillium sp. and Trichoderma sp. performed and Azadirachta indica leaves were collected from Thanjavur District, Tamilnadu, India. All the test organisms were screened for their antibacterial activity against different concentration and different solvent extraction of A. indica leaves by agar well diffusion method. Leaf extract of Azadirachta indica showed maximum zone of inhibition in antibacterial activity against E.coli (14mm) and antifungal activity against A.niger (24mm) susceptible to neem extract. The highest zone of inhibition was measured in both antibacterial and antifungal activity from the higher concentration of 20% of ethanolic extracts.
[Full Text Article]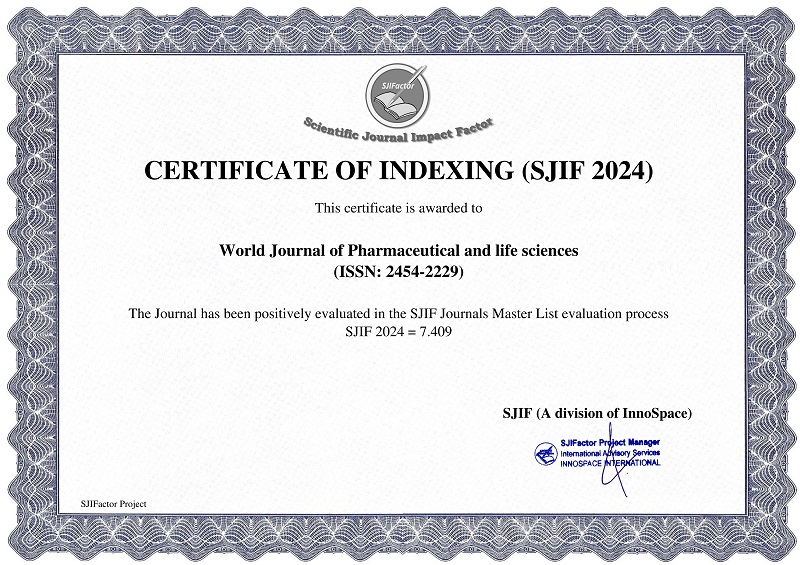 BEST PAPER AWARDS
World Journal of Pharmaceutical and life sciences Will give best paper award in every issue in the from of money along with certificate to promote research .
Best Article of current issue
Download Article : Click here