Abstract
ASSESSING THE WATER QUALITY OF FRESH AND MARINE WATERS IN COASTAL AREAS OF RIVERS STATE, NIGERIA
Ollor O. A.*, Wachukwu C. K. and Wemedo S. A.
ABSTRACT
The coastal area of Rivers State is located in the Niger Delta of Nigeria and is criss-crossed by different rivers, streams, creeks and rivulets and they are exposed to uncontrolled, untreated non-point source pollution as they receive run-offs, sediments and sewage directly into them. The aim of this study is to compare the water quality of a fresh and marine water in the coastal area. The water samples were collected in sterile containers for physicochemical and bacteriological estimations using standard methods. The physicochemical parameters were determined by using the Hatchi (2000) instrument that analysed the pH, temperature, conductivity and turbidity in situ, while the spectrophotometric techniques were used for the nitrate, phosphate and other parameters as chloride and alkalinity were determined by titration methods. The standard conventional culturing technique of isolation, identification and biochemical tests were used for the bacteriological analysis of water. The results of the physicochemical parameters are pH 5.44 ± 0.37 to 7.42 ± 0.28, temperature 27.5oC ± 1.10 to 28.9 ± 1.13 oC, conductivity 13.75 ± 0.35 to 32750 ± 353.55?s/cm. Dissolved oxygen 2.94 ± 0.01 to 7.57 ± 0.05 mg/l, chloride 1.00 ± 0.00 to 10397.40 ± 32.81 mg/l and the others. The identified bacteria in the water samples were Staphylococcus spp, Bacillus spp, Klebsiella spp, Vibrio spp, Pseudomonas spp, Escherichia coli and Chromobacteria violaceum. It can be inferred that the presence of the isolated bacteria could result to outbreak of epidemics and knowledge of the strains of the bacteria would help in managing their presence in public water.
[Full Text Article]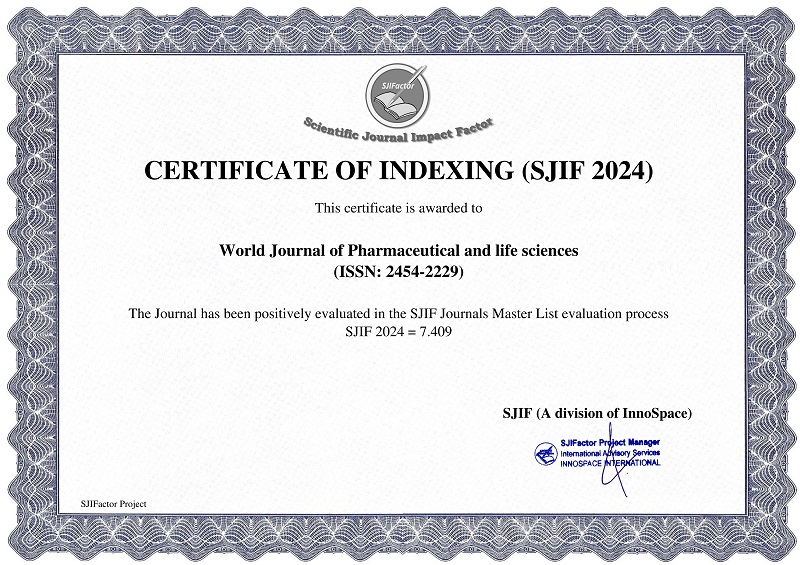 BEST PAPER AWARDS
World Journal of Pharmaceutical and life sciences Will give best paper award in every issue in the from of money along with certificate to promote research .
Best Article of current issue
Download Article : Click here