Abstract
REASONS FOR UTILIZING DENTAL SERVICES AMONGST ADULT POPULATIONS IN CHENNAI CITY, INDIA
Delfin Lovelina Francis*, Kumara Raja Balasubramanian, Logeshwaran Ravikumar, Geethanjali K., Keerthi Sowjanya G.
ABSTRACT
Aim: To assess the level of dental services utilization among urban populations of Chennai city, Tamil Nadu, India. Materials and Methods: A cross sectional questionnaire survey was carried out among 472 participants aged 20 years and above during the month of January 2016 in Chennai city, India. Systematic random sampling methods were followed to collect data. The results were analyzed by descriptive statistics and Chi?square test using SPSS version 19. All tests were set at a 0.05 significance level. Results: A total of 472 study subjects with mean age 40.7 ± 3.1 years participated in the present study. Amongst those who visited the dentist, the most common reasons for their last visit were tooth ache (pain) (46.0%), followed by dental filling of crown (22.1%), Cleaning of teeth (13.3%) and replacement of missing teeth (09.5%). It was observed that only 11(02.3%) participants visited dentist for regular dental check-up. Conclusion: Dental care service was majorly utilized for relieving pain, proving the fact that study participants visited dentist only when a symptomatic reasons arises.
[Full Text Article]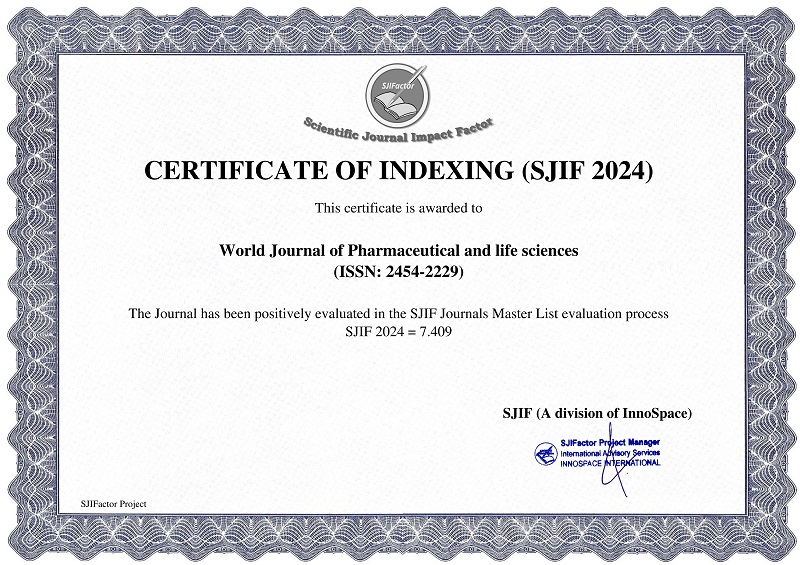 BEST PAPER AWARDS
World Journal of Pharmaceutical and life sciences Will give best paper award in every issue in the from of money along with certificate to promote research .
Best Article of current issue
Download Article : Click here