Abstract
ANTIDYSLIPIDEMIC PROPERTIES OF OCIMUM GRATISSIMUM (ANCHABI) ON HIGHLY ACTIVE ANTIRETROVIRAL THERAPY ADMINISTERED ALBINO WISTAR RATS
Abdisa T.*, Daniel S., Melaku U., Gnanasekaran N. and Yididya B.
ABSTRACT
Background: Highly active antiretroviral therapy is considered toxic and has other life- threatening side effects including dyslipidemia. The Ocimum gratissimum and related species are used in folk medicine for various human diseases. In this study defense property of Ocimum gratissimum (Anchabi) over highly active antiretroviral therapy drugs induced dyslipidemia has been evaluated on albino wistar rats. Methods: Thirty six rats of same age and 150-200 g weight were selected and divided into six groups containing each six. The animals were treated with highly active antiretroviral therapy drugs and different concentration of hydroethanolic leaves extract of Ocimum gratissimum (100, 200, 300 and 400 mg/kg) for thirty days. After thirty days treatment, the rats were fasted overnight (12 to 14 hours). The animals were anaesthetized and blood sample was collected by cardiac puncture for biochemical study. Results: Elevated levels of total cholesterol, triacylglycerol, LDL-cholesterol and decreased levels of HDL cholesterol were detected in highly active antiretroviral therapy administered groups. The oral administration of varying doses of hydroethanolic leaves extract of Ocimum gratissimum for the period of thirty days reversed these altered results to normal levels in a dose dependant manner. Conclusion: These results indicated that Ocimum gratissimum efficiently protected against dyslipidemia induced by highly active antiretroviral therapy drugs in rats, possibly through the antioxidative and antidyslipidemic efficacy of Ocimum gratissimum.
[Full Text Article]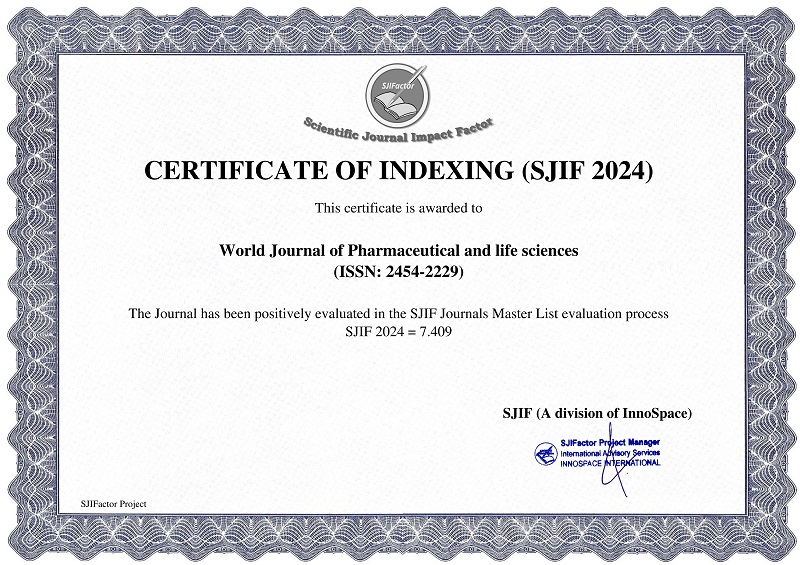 BEST PAPER AWARDS
World Journal of Pharmaceutical and life sciences Will give best paper award in every issue in the from of money along with certificate to promote research .
Best Article of current issue
Download Article : Click here