Abstract
EVALUATION HAEMATOLOGICAL PARAMETERS OF POLYHERBAL PREPARATION ON STREPTOZOTOCIN INDUCED DIABETIC RATS
Somanathan S. S.*, Ranganayakulu D. and Jayaveera K. N.
ABSTRACT
Objective: The current sudy was designed to evaluate the anti-diabetic and haematological parameters of combined poly herbal extract preparaion on streptozotocin (60mg/kg bw) induced diabetic rats. Asistasia gangetica leaf extract (AGLE-50mg/kg), Ficus racemosa leaf extract (FRLE-75mg/kg) and Morus indica leaf extract (MILE-75mg/kg) were combinely (poly herbal preparation-PHP) administered to diabetic and non diabetic rats. In this study Glibenclamide (5mg/kg) is used as standard drug.[2,3,5] The physiological animal body weight (BW), haematological parameters like Fasting blood glucose (FBG), Oral Glucose Tollarance Test(OGTT), RBC counts (RBCc), WBC counts (WBCc), Haemoglobin level (Hb), Glycocylated Haemoglobin (HbA1C), bleeding time (Bt-duke method), cloting time (Ct-capillary glass method), were studied were studied.[13]
[Full Text Article]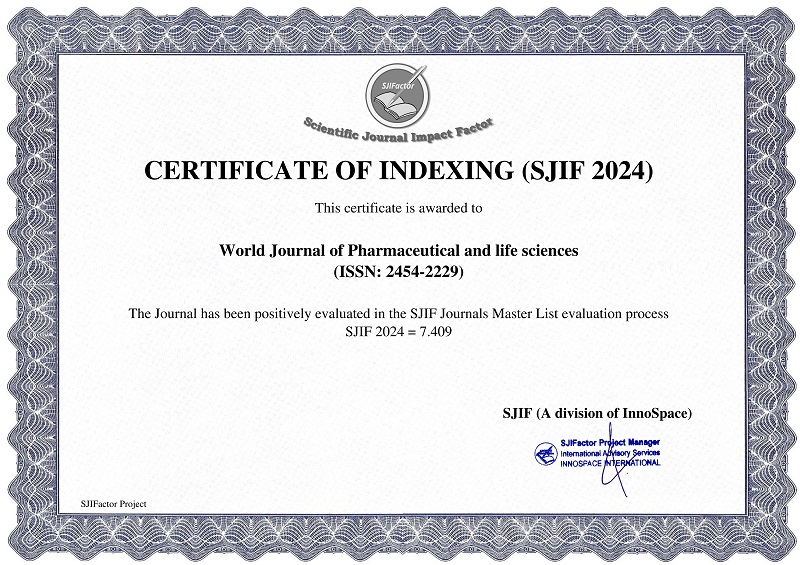 BEST PAPER AWARDS
World Journal of Pharmaceutical and life sciences Will give best paper award in every issue in the from of money along with certificate to promote research .
Best Article of current issue
Download Article : Click here