Abstract
GC-MS ANALYSIS AND ANTIMICROBIAL ACTIVITY OF SUDANESE FOENICULUM VULGARE (APIACEAE) ESSENTIAL OIL
Prof. Abdel Karim M.*, Tamador A. A. and Khalid M. S.
ABSTRACT
Foeniculum vulgare essential oil was studied by GC-MS. The oil was also assessed for antimicrobial activity. Thirty five components were detected by GC-MS analysis. Main constituents are: (1-phenyl)-1, 2-ethanediol (21.43%), 4-(1-methyethyl) benzaldehyde(18.03%), gamma,-terpinene(15.35%), 2-caren-10-al(14.15%), and ?-pinene (10.45%). The antibacterial activity of the oil was evaluated via the diffusion assay against five standard human pathogens (Gram positive: Staphylococcus aureus and Bacillus subtitlis; Gram negative: Esherichia coli and Pseudomonasa aeruginosa and the fungus Candida albicans). Foeniculum vulgare oil showed excellent activity against all test organisms at 50mg/ml. At 25mg/ml the oil exhibited significant activity against Staphylococcus aureus and the yeast Candida albicans. The oil was active against all test organisms in the range: 50-12.5mg/ml.It seems that the oil is a lead for further optimization.
[Full Text Article]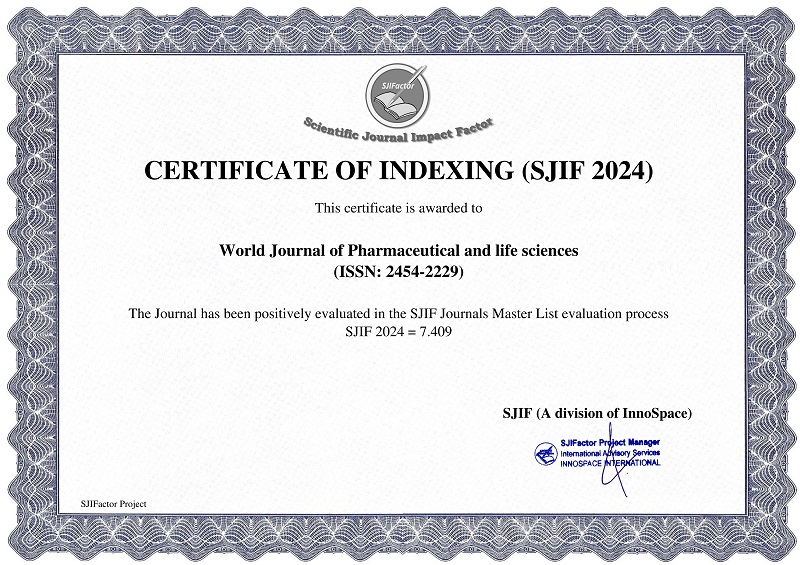 BEST PAPER AWARDS
World Journal of Pharmaceutical and life sciences Will give best paper award in every issue in the from of money along with certificate to promote research .
Best Article of current issue
Download Article : Click here