Abstract
PULMONARY THROMBOEMBOLISM AS A FIRST PRESENTATION OF SYSTEMIC LUPUS ERYTHMATOUS.
Lalit Prashant Meena*, Jaya Chakravarty, Saurabh Chopra and Madhukar Rai
ABSTRACT
Background: Systemic lupus erythematous (SLE) can involve any organ in body, but pulmonary vascular system involvement is usually in the latter course of the disease. Case Report: Here we are submitting a case of SLE who was presented with massive pulmonary thrombosis as a presenting symptom. A 25 year old unmarried female patient presented to us with complaints of sudden onset breathlessness and retrosternal chest pain. On the basis of examination and investigations SLE with Pulmonary thromboembolism was diagnosed. She was treated with Immunosuppressive and anticoagulant therapy and showed a dramatic good response. Conclusion: Patient comes with sign and symptoms of Pulmonary thromboembolism as a first manifestation, should also be evaluated for SLE and Anti phospholipid antibody.
[Full Text Article]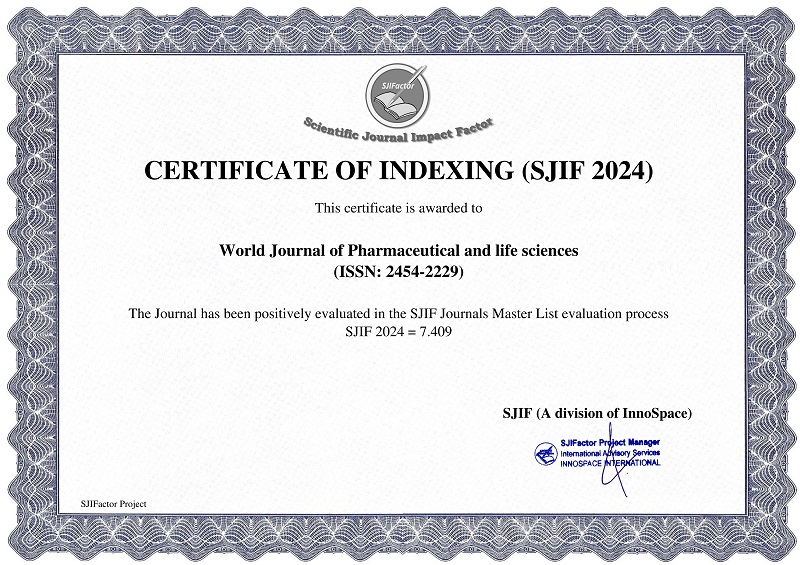 BEST PAPER AWARDS
World Journal of Pharmaceutical and life sciences Will give best paper award in every issue in the from of money along with certificate to promote research .
Best Article of current issue
Download Article : Click here