Abstract
ASSESSMENT OF KNOWLEDGE, ATTITUDE AND PRACTICE OF MALARIA MANAGEMENT AND CONTROL AMONG STAFF AND STUDENTS OF DELTA STATE UNIVERSITY, ABRAKA, NIGERIA
Eniojukan Joshua F.*, Akiri Florence O.
ABSTRACT
Globally, malaria is one of the most severe public health problems especially in resource-limited countries. This study evaluated the knowledge, attitude and practice of malaria among the Staff and Students of Delta State University, Abraka in South-South Nigeria. A descriptive cross-sectional survey was carried out among 400 respondents. Data was analyzed with SPSS version 20. There were more female respondents (52.1%); 46.3%, 32% and 21.7% were students, academic staff and non-academic staff respectively; 50% and 41.8% of all respondents had secondary and tertiary education respectively; 86.9% were Christians; 46.6% were single. All (100%) respondents ever heard of malaria and 98.8% knew that Mosquito is the vector; majority (83.5% – 100%) identified sleeping in insecticide treated nets, spraying insecticides, trimming of bushes around the house and Elimination of stagnant water as malaria control measures; Age, occupation and education were correlated with knowledge of malaria. Educational interventions are needed to bridge the gaps in knowledge about malaria chemoprophylaxis and control in this population.
[Full Text Article]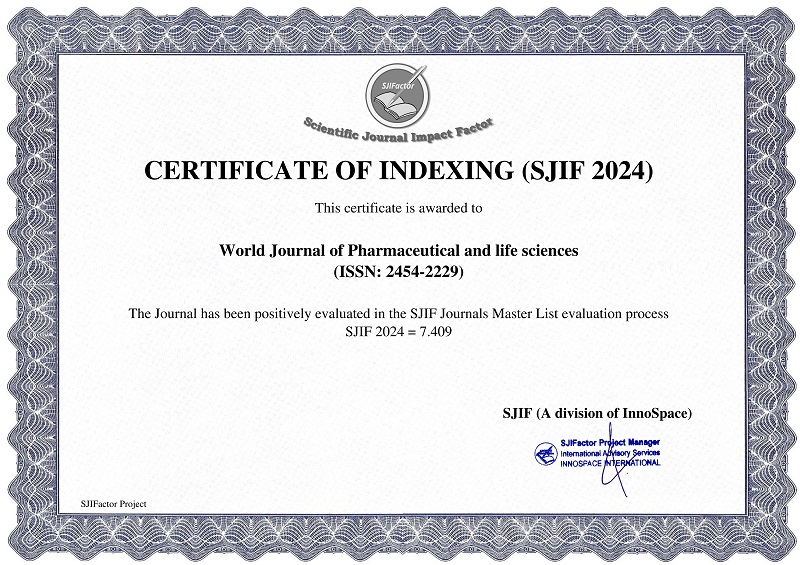 BEST PAPER AWARDS
World Journal of Pharmaceutical and life sciences Will give best paper award in every issue in the from of money along with certificate to promote research .
Best Article of current issue
Download Article : Click here