Abstract
NSAIDS IN PERIODONTOLOGY: MOVING BEYOND ANALGESICS
Dr. Salman Khawar*, Dr. Suchetha A., Dr. Apoorva S.M., Dr. Sapna N., Dr. Divya Bhat and Dr. Latha G.
ABSTRACT
Periodontal disease belongs to the group of inflammatory disorders that is a result of the interaction of host immunity and etiological agent. Newer approach for periodontal disease management has been emerging as more is learned about role of host response. The increasing understanding about inflammation and its resolution has opened the door to study new periodontal treatment strategies. One of the earliest pharmacological strategies described to block the inflammatory processes in periodontal tissues as well as elsewhere in the body are non steroidal anti inflammatory drugs (NSAIDs). NSAIDs act as host modulatory agent and various studies using traditional NSAIDs systemically and locally on human and animal models have shown positive results with respect to reduction in progression of periodontal disease. Hence this article aims to overview the various aspects of the feasibility of using NSAIDs in periodontics as well as an insight into the mechanism of action and adverse effects associated with it.
[Full Text Article]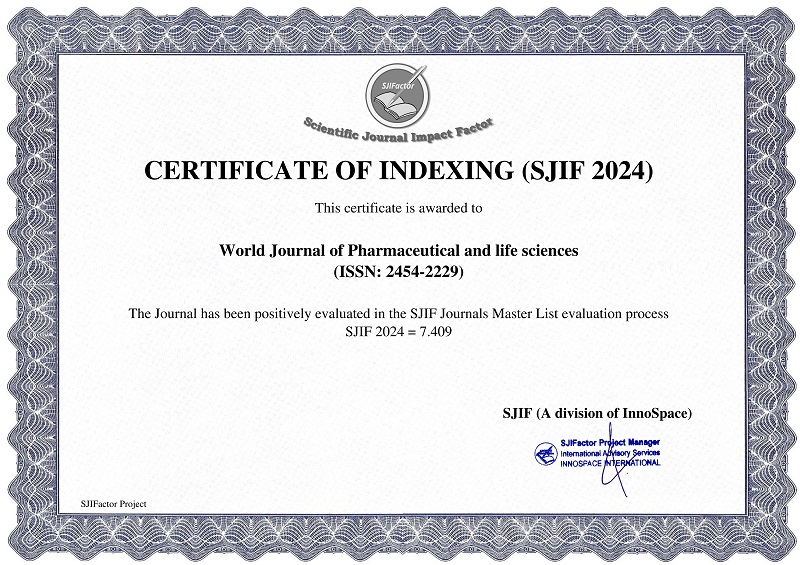 BEST PAPER AWARDS
World Journal of Pharmaceutical and life sciences Will give best paper award in every issue in the from of money along with certificate to promote research .
Best Article of current issue
Download Article : Click here