Abstract
IN VITRO ANTI-INFLAMMATORY AND ANTI-ARTHRITIC ACTIVITY IN METHANOLIC PEEL EXTRACTS OF PERSEA AMERICANA
Smitha Grace S.R*, Jyoti Bala Chauhan and Hemanth Kumar. K.
ABSTRACT
Herbs are staging a comeback and herbal "renaissance? is happening all over the globe. The herbal products today symbolise safety in contrast to the synthetics that are regarded as unsafe to human and environment. The present study deals with the in vitro anti-inflammatory and anti-arthritic activity in methanolic peel extracts of Persea americana. The previous phytochemical analysis of methanolic peel extract of Persea americana has indicated the presence of several physiologically active phytochemicals such as phenols, flavonoids, triterpenoids, steroids, alkaloids etc. Since these compounds are of pharmacological interest, coupled with the use of this plant in traditional medicine, prompted us to check peel extract of Persea americana for in vitro anti-inflammatory activity by Human Red Blood Cell (HRBC) membrane stabilization method and anti-arthritic activity by the inhibition of protein denaturation method. The peel methanolic extracts of Persea americana exhibited notable anti-inflammatory activity and remarkable anti-arthritic action. The membrane stabilization was found to be 95.719% (HRBC), 96.719 % (EYMS) at a dose of 1000μg/ml, and that of protein denaturation was also found to be at a 97.47% at a dose of 250μg/ml) which was comparable to the standard drug (Diclofenac sodium). Therefore, our studies support the isolation and the use of active constituents from methanolic peel extract of Persea americana in treating inflammations and Associated Rheumatism.
[Full Text Article]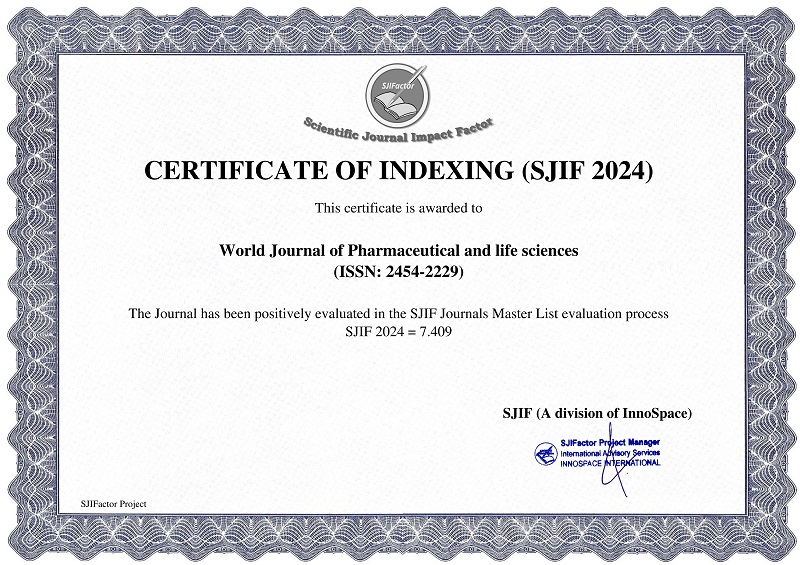 BEST PAPER AWARDS
World Journal of Pharmaceutical and life sciences Will give best paper award in every issue in the from of money along with certificate to promote research .
Best Article of current issue
Download Article : Click here