Abstract
BIOCHEMICAL COMPOSITION OF TOLYPIOCLADIA GLOMERULATA (C. AGARDH) F. SCHMITZ
Mohanapriya N.* and Murugesan S.
ABSTRACT
The biochemical composition of Tolypiocladia glomerulata, showed varied quantities of biochemical constituents such as total carbohydrates, total proteins, total lipids, vitamins and minerals. Among the biochemical content total protein is present in highest amount 206.45 ± 0.00 mg/g, total carbohydrates is 153.25 ± 0.10 mg/g and total lipid is 9.18 ± 00 mg/g. Among the vitamins, vitamin B2 (671.50 ± 0.01?g/g) and vitamin C (123.99 ± 0.00 ?g/g) was present in higher quantities. Macro elements such as sodium (1564 ± 2.08 ?g/g) and calcium (1255 ± 1.00 ?g/g) and micro element magnesium (1223 ± 1.15 ?g/g) were present in higher amounts.
[Full Text Article]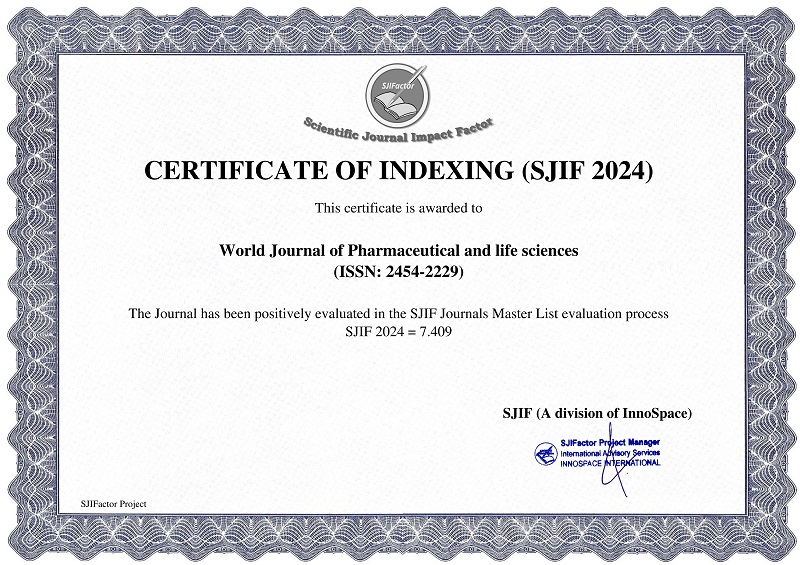 BEST PAPER AWARDS
World Journal of Pharmaceutical and life sciences Will give best paper award in every issue in the from of money along with certificate to promote research .
Best Article of current issue
Download Article : Click here