Abstract
QUORUM QUENCHERS – PAST, PRESENT AND FUTURE OF THIS NOVEL THERAPEUTICS.
Y. Aparna* and J. Sarada
ABSTRACT
One of the significant developments of modern medicine is the discovery and development of antibiotics to treat infectious diseases. The treatments by using antimicrobial agents aim to bring either bacteriostatic or bacteriocidal activity in pathogenic microbes. A major difficulty with this approach is development of multi resistance pathogenic bacterial strains. Hence the development of novel therapeutic approaches to treat bacterial infections constitutes a focal point of modern research. The discovery of quorum-sensing systems, which coordinate important sequential events during the infection process, has provided a novel opportunity to fight bacterial infection. Compounds which are capable of interfering bacterial signalling processes were discovered in the recent years. Observations on Quorum sensing linked virulence factor production and biofilm formation suggests that many virulent Gram-negative organisms could potentially be rendered non virulent by inhibition of their quorum-sensing systems. Dong et al (2001; 2004), Hentzer and Givskov (2003) explored these approaches as feasible ways to prevent and control bacterial infection popularly known as "quorum quenching' (QQ), "anti pathogenic? or "signal interference'. Over the last 15 years, use of quorum quenchers to modulate bacterial sensing systems has attracted significant interest.
[Full Text Article]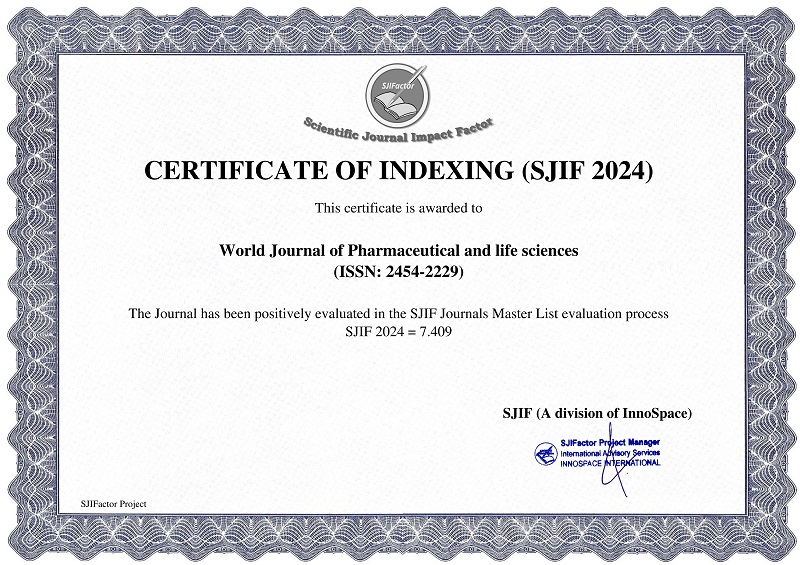 BEST PAPER AWARDS
World Journal of Pharmaceutical and life sciences Will give best paper award in every issue in the from of money along with certificate to promote research .
Best Article of current issue
Download Article : Click here