Abstract
NALOXONE IN ACUTE CORONARY SYNDROMES AND CARDIOGENIC SHOCK PATIENTS PRETREATED WITH MORPHINE. A CLINICAL AND ECHOCARDIOGRAPHIC STUDY
Ruiz-Bailén, Manuel MD, PhD* Cobo-Molinos, Jesús. PhD. Castillo Rivera, Ana MD, PhD. Iniesta-Carricondo, María Carmen, Espada Fuentes, José Carlos. Martínez-Ramírez, María José MD, PhD, Ro

ABSTRACT

Purpose: The use of morphine is common in acute heart failure critically ill patients and although it remains indicated in guidelines however now beginning to be controversial. Naloxone could improve hemodynamic status in cardiogenic shock (CS) patients pretreated with morphine. Objetive: The objectives were to evaluate whether naloxone administration to patients treated with morphine improves haemodynamic and echocardiographic parameters. Methods: Intensive Care Unit of Jaén University Hospital. It is an observational prospective study. Only exists an unique cohort treated with naloxone; there is no control group or randomization. Inclusion criteria were 1) acute myocardial infarction with CS and considered "no alternative receiving invasive mechanical ventilation", 2) previous administration of ≥ 10 mg of morphine chloride. Naloxone was used as "compassionate use". The study period was from January 2012 to September 2013. Hemodynamic and echocardiographic variables including speckle tracking techniques were evaluated before and after naloxone administration. Statistical analysis was performed using the Student t test. Results: 37 patients were included. They had a mean age 73.08 ± 3.41 years, 54% being male. Clinical parameters improved after naloxone administration, especially systolic blood pressure [82.33 ± 2.27 to 117.35 ± 1.89] mmHg. The respiratory and heart frequencies decreased and GCS were normalized. LVEF [261 ± 01 - 338 ± 01]; left ventricle strain [-9.503-(-11.91)], and left ventricle SR [-.48-(-1.12)] increased after naloxone. An increase in right ventricular contractility was also observed. Conclussion: This study generates the hypothesis that naloxone could improve clinical and echocardiographic parameters in CS patients treated with morphine. The morphine use should be approached with caution.
[Full Text Article]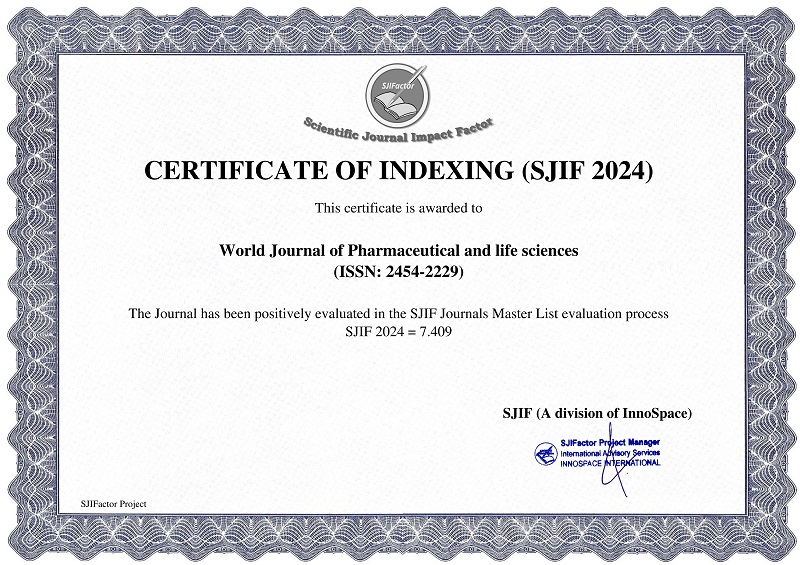 BEST PAPER AWARDS
World Journal of Pharmaceutical and life sciences Will give best paper award in every issue in the from of money along with certificate to promote research .
Best Article of current issue
Download Article : Click here