Abstract
ADOPTION OF SUSTAINABLE AGRICULTURAL PRACTICES BY FARMERS IN OTUKPO LOCAL GOVERNMENT AREA OF BENUE STATE, NIGERIA
Kughur P.G., Katikpo G. and Kuza Y.
ABSTRACT
In spite of the vast agricultural potential of Nigeria, the issue of food security is still a major challenge because till date, the agricultural potential has not been harnessed properly. The study examined the adoption of sustainable agricultural practices by farmers in Otukpo Local Government Area of Benue State, Nigeria. Five council wards were purposively selected based on intensity of sustainable agricultural practices adopted. Nineteen respondents (farmers) were selected in each of the three council wards and 20 from the remaining two council wards were randomly selected thus, given a total of 97 respondents. Data collected were analyzed through descriptive statistics and t test. The results of the findings revealed that 60.80% adopted planting of leguminous crops and use of compost to improve soil fertility, 42.30% got information on sustainable agricultural practices from friends, there were significant difference in the output of soybean, potato, banana and rice after adoption of sustainable agricultural practices at P<0.05, 54.60% lack of agricultural extension workers to create awareness on sustainable agriculture practices. It is recommended that more sustainable agriculture practices should be introduce to farmers and extension workers should be employed and trained on sustainable agriculture.
[Full Text Article]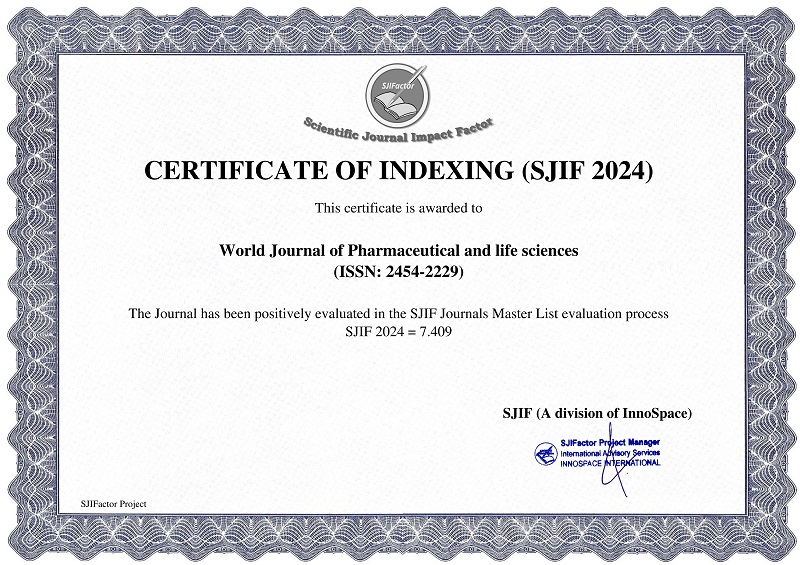 BEST PAPER AWARDS
World Journal of Pharmaceutical and life sciences Will give best paper award in every issue in the from of money along with certificate to promote research .
Best Article of current issue
Download Article : Click here