Abstract
DECISION TO CHOOSE: BRANDED OR GENERIC DRUGS
Devkar Swati R.* and Bhosale Sangram S.
ABSTRACT
Generic medicines are those where patent protection has expired, and which may be produced by manufacturers other than the innovator company. Some patients have misperception that generic drugs are inferior to brand name drugs. Use of generic medicines has been increasing in recent years, primarily as a cost saving measure in healthcare provision. Generic medicines are typically 20 to 80% cheaper than originator equivalents. Our objective is to provide a high-level description of what generic medicines are and how they differ, at a regulatory and legislative level from originator medicines, their similarities and drug development. Often the question is raised about the safety and efficacy of generic drugs / formulations comparing their branded products. All over the world this aspect is being debated and more so in recent times since the cost of treatment is sky-rocketing. The points of debate have always been the "bioequivalence" i.e. whether it is similar in form, strength, safety, dosage, route of administration, bioavailability and effectivity to that of its branded siblings. We also need to educate our patients about generic drugs so that they can make an informed decision about their treatment.
[Full Text Article]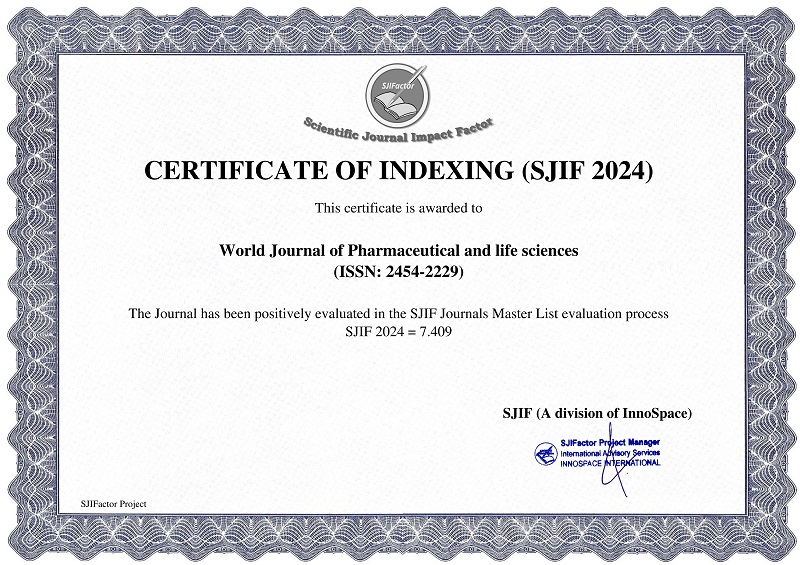 BEST PAPER AWARDS
World Journal of Pharmaceutical and life sciences Will give best paper award in every issue in the from of money along with certificate to promote research .
Best Article of current issue
Download Article : Click here