Abstract
LACTUCA SATIVA OIL: GC-MS ANALYSIS AND ANTIMICROBIAL ACTIVITY
Prof. Abdel Karim M.*, Asma M.H. and Inas O.
ABSTRACT
Lettuce (Lactuca sativa) is an important leafy vegetable globally cultivated for its economic value. This study was carried out to identify and quantify the constituents of Sudanese lettuce seed oil. The GC-MS analysis of Lettuce seed oil revealed the presence of the following major components: methyl 10-trans,12-cis-octadecadienoate (54.18%), hexadecanoic acid methyl ester (13.71%), 9-octadecenoic acid methyl ester(11.41%) and methyl stereate(5.36%). The antimicrobial activity was accomplished via disc diffusion bioassay against six standard pathogens. The oil showed activity against all test organisms. Significant activity against Pseudomonas aeruginosa was observed. Also the oil showed excellent activity against Escherichia coli, and the fungal species Candida albicans.
[Full Text Article]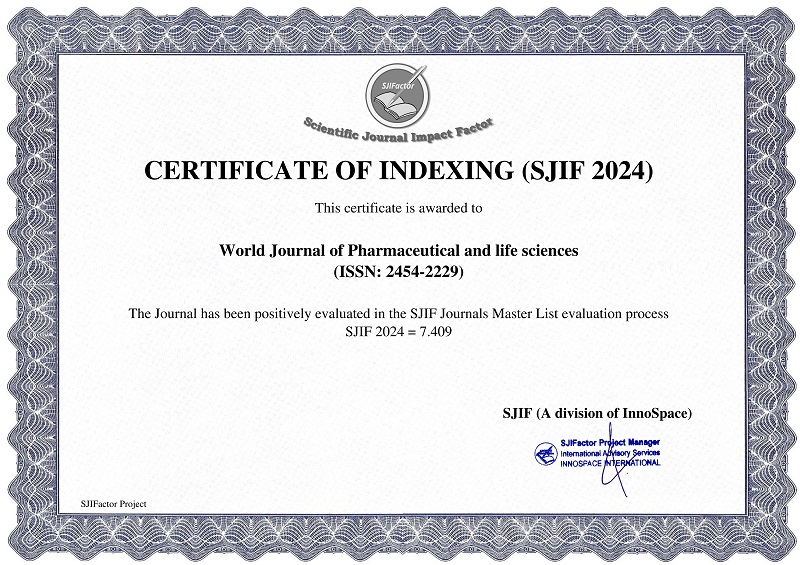 BEST PAPER AWARDS
World Journal of Pharmaceutical and life sciences Will give best paper award in every issue in the from of money along with certificate to promote research .
Best Article of current issue
Download Article : Click here