Abstract
ANTI-OXIDANT AND ANTI-BUTYRYLCHOLINESTERASE ACTIVITY OF AN AQUEOUS EXTRACT OF MORUS NIGRA.
Suresh Kumar* and Nitin Khatri
ABSTRACT
Alzheimer's disease (AD), which is considered to be most common form of dementia leads to neurodegeneration of primarily the cholinergic neurons. The currently available medication based on cholinesterase inhibiting activity can only provide symptomatic relief to the patients undergoing treatment. The present study evaluates the anti-oxidant and anti-butyrylcholinesterase activity of an aqueous extract of Morus nigra. Our findings demonstrated that an aqueous extract of Morus nigra's fruit significantly inhibited butyrylcholiesterase enzyme and showed maximum inhibition of
54.28±0.33% at the final concentration of 200μg/ml with IC50 value of 126.80μg calculated using the percentage inhibition plot. An aqueous extract of Morus nigra also possessed significant antioxidant activity of 2511.593±0.123 μmol Fe2+ E/g of dried sample and 0.89±0.0005 mmol Trolox E/g of dried sample assessed by Ferric reducing activity of plasma assay and Trolox equivalent antioxidant capacity assay respectively. It is concluded that this plant has potential for alleviating the symptoms associated with AD.
[Full Text Article]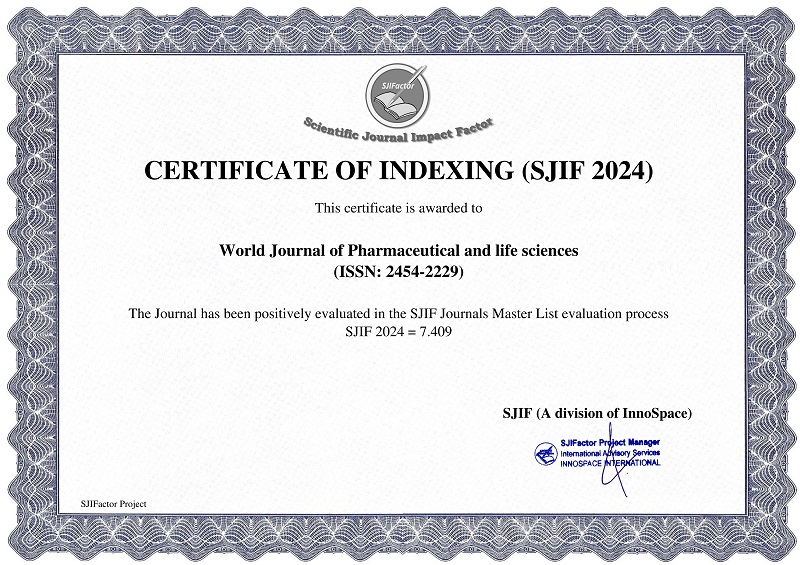 BEST PAPER AWARDS
World Journal of Pharmaceutical and life sciences Will give best paper award in every issue in the from of money along with certificate to promote research .
Best Article of current issue
Download Article : Click here