Abstract
STUDY OF THE BIOLOGICAL ACTIVITY OF WOAD INFUSION (ISATIS TINCTORIA L.)
Nabiev A. Kh*, Tillaeva G. U., Makhmudov L. U. and Khakimzhanova Sh. O.
ABSTRACT
Research was conducted to study pharmacological, preclinical studies to determine the biological and therapeutic hypoglycemic activity of Woad (Isatis tinctoria) preparations L.), isolated from aqueous infusion. The effect of doses and concentrations on therapeutic hypoglycemic efficacy was also studied, for which drugs were prepared in doses of 25 mg/kg, 50 mg/kg and 75 mg/kg. The results showed that when used for 14 days, Isatis tinctoria extract L. _ for the treatment of animals with diabetes mellitus at different doses, only 75 mg/kg reduced the amount of glucose in the urine and blood. It should also be noted that the administered dose of isatis tinctoria L. - 75 mg/kg increased the activity of leukocytes, erythrocytes and platelets responsible for the immune system in the blood.
[Full Text Article]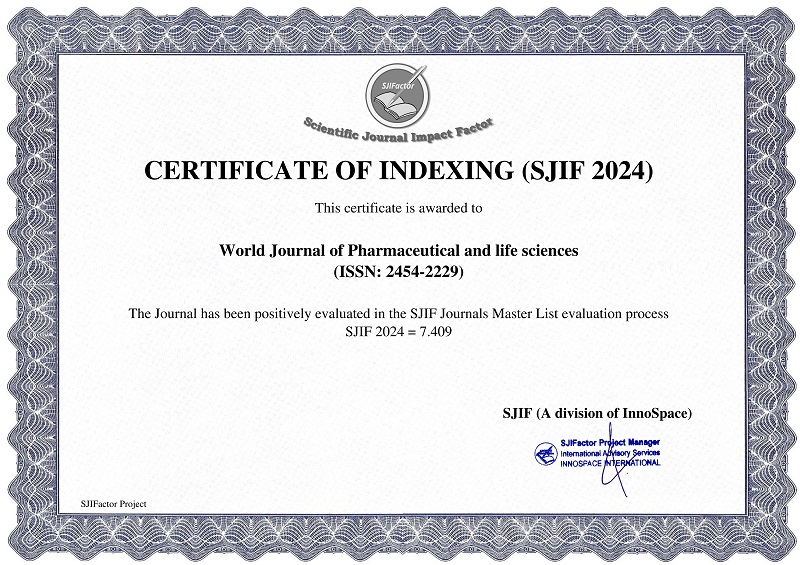 BEST PAPER AWARDS
World Journal of Pharmaceutical and life sciences Will give best paper award in every issue in the from of money along with certificate to promote research .
Best Article of current issue
Download Article : Click here