Abstract
VALIDATION OF THE HPLC METHOD FOR QUALITY CONTROL OF THE SUBSTANCE BENZKETOZONE
Tillaeva U. M.* and Rakhmonova Z. A.
ABSTRACT
Annotation: A new improved method for the separation, detection and determination of the quantitative content of Benzketozone in a substance by HPLC has been developed. The developed methodology was validated. Parameters such as sensitivity, linearity, repeatability and accuracy are established. Also A comparative analysis of Benzketozone in the substance was carried out using UV spectrophotometric and HPLC analysis methods. It was shown that the relative error for the UV spectrophotometric method was 0.9%, and for HPLC - 1.09%. A one-way analysis of variance was carried out on the developed methods for the quantitative determination of the substance Benzketozone. Results of comparison of the calculated value of F with the table value: F calc. < F tables show that the developed methods are comparable to each other. Therefore, for further qualitative and quantitative analysis of Benzketozone in soft dosage forms, it is advisable to use the developed methods of UV spectrophotometry and HPLC.
[Full Text Article]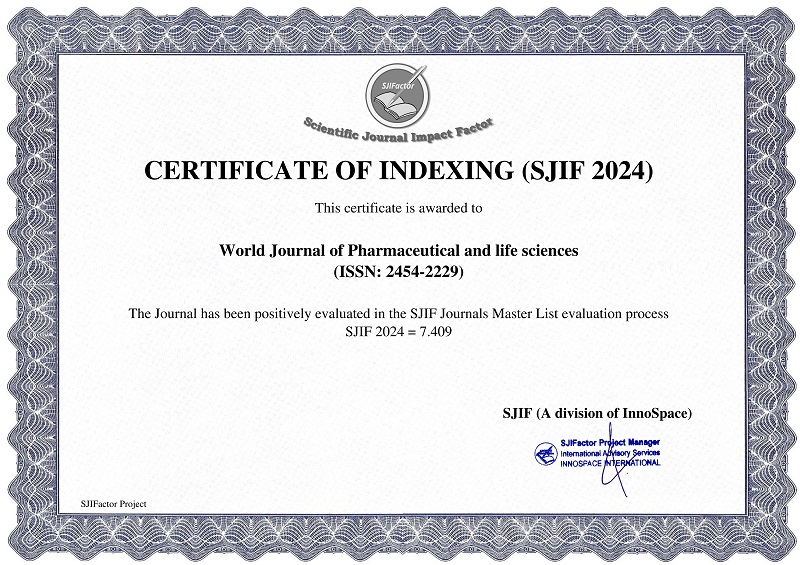 BEST PAPER AWARDS
World Journal of Pharmaceutical and life sciences Will give best paper award in every issue in the from of money along with certificate to promote research .
Best Article of current issue
Download Article : Click here