Abstract
DEVELOPMENT OF METHODS FOR QUALITY CONTROL OF DRY EXTRACT OF LEAVES AND ROOTS OF VOAD
*Tillaeva G.U. and Khakimzhanova Sh.O.
ABSTRACT
Methods have been developed for the identification and quantitative determination of the active ingredients in dry extracts of the leaves and roots of Woad. Based on the studies carried out, a TLC technique was proposed for authenticity, and a choice of solvents, elution conditions and developers for identifying flavonoids was made. Validation characteristics for determining the sensitivity and detection limit of the prepared drugs are presented, proving the correctness, suitability, reproducibility and specificity of the developed method. To determine the quantitative content of active substances from the dry extract of leaves and roots of usma, a spectrophotometric method was used. The determination was carried out based on flavonoids in terms of luteolin as the dominant element contained in the extracts. The developed conditions will be included in the regulatory document for dry extract of leaves and roots of Woad.
[Full Text Article]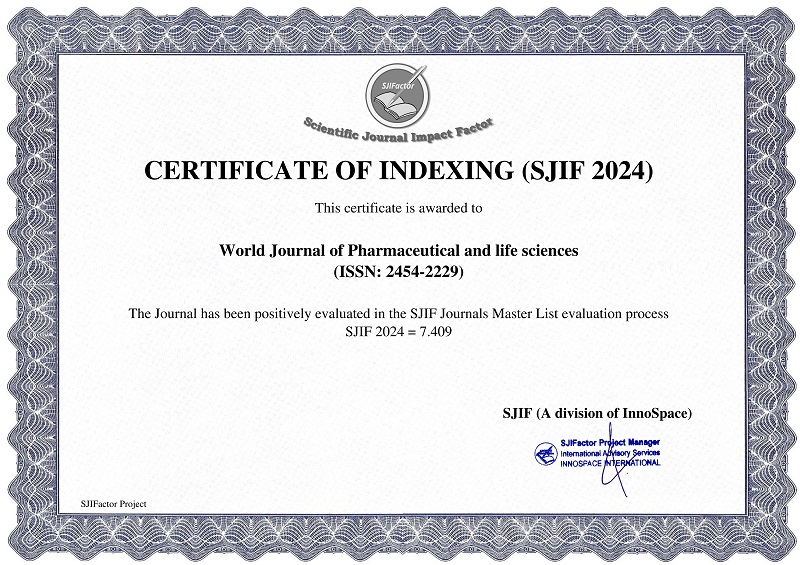 BEST PAPER AWARDS
World Journal of Pharmaceutical and life sciences Will give best paper award in every issue in the from of money along with certificate to promote research .
Best Article of current issue
Download Article : Click here